Companies Create a Destination for Tenants
Sunday, August 25, 2019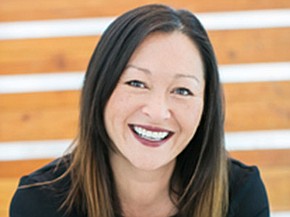 Working with the in-house design team of Kilroy Realty Corp., Ware Malcomb architects had a daunting task — transform a bland group of three suburban office towers into an enticing campus that would attract savvy tenants and people from the surrounding community.
The three six-story buildings that make up Kilroy Sabre Springs at 13480, 13500 and 13520 Evening Creek Drive had been home to Bridgepoint Education, now Zovio.
"They were dated," said Tiffany English, principal in Ware Malcomb's San Diego office.
The buildings are high profile — near the intersection of Interstate15 and state Route 56 where it ends in Sabre Springs.
But the competition in the area for new tenants is strong, and the 450,000 square-foot campus needed more than just a lot of room available to lease.
Reinvigorating the Project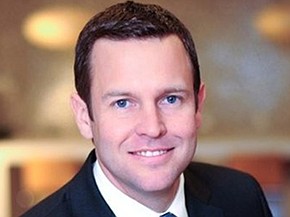 "We wanted to reinvigorate the project with modern, collaborative spaces, making KSS (Kilroy Sabre Springs) the top office choice in the market," said Nelson Ackerly, senior vice president of Kilroy Realty Corp. in San Diego and Orange counties.
The renovated campus is a far cry from what it was, with a plaza that connects the three buildings replacing parking lots in front of the buildings.
"The buildings feel very different now. They feel a little less like office buildings," English said, adding that one goal was to make the overall campus "much more inviting and welcoming."
"You come in now and you see this plaza right away. It makes a statement," English said. "It ties it all together now so it feels much more connected and there's a reason that you want to be in that area."
At the heart of the renovation is a new restaurant — The Florence — created by Legal Restaurants based in San Diego with 12,000 square feet of indoor space and 40,000 square feet outdoors.
"We looked a lot with how that was going to connect. It wasn't just, put a restaurant in a building and provide food," English said.
Channeling Her Spirit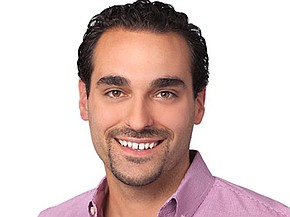 The restaurant is designed with an aquatic theme and pays homage to Florence Chadwick, a San Diego native who grew up in Point Loma and was the first woman to swim both directions of the English Channel, doing it in record-breaking time.
Chadwick's family owned a ranch that at one time covering much of what became Sabre Springs.
Nick Sanderson, a partner in Legal Restaurants, said he wanted the restaurant to reflect the history of the region when he came upon Chadwick's story.
"What a way for Kilroy and us to celebrate the past where their land is," Sanderson said.
In her time, Chadwick became an international celebrity after making her record-breaking swim in 1951.
"She was quite a rock star," Sanderson said. "She was the highest paid athlete of the 1950s."
The Florence celebrates Chadwick's career, with displays of photographs and memorabilia that include the pale blue swimsuit that was her trademark and the map she used to chart her course across the English Channel — complete with calculations in her own hand about how long it would take.
Even the color scheme is meant to pay homage to Chadwick — pastel blues, turquoise and orange that Chadwick would have seen at beach resorts along the French Riviera, Sanderson said.
The new restaurant also recreates some of the menu items and cocktails that were popular in the 1950s.
Part of the restaurant is a boathouse-like structure that provides a covered outdoor dining area.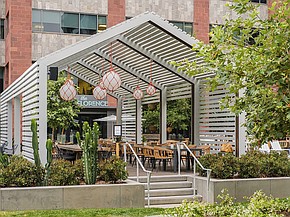 In evoking a coastal theme, the restaurant is meant to act as an escape from the office environment for people who work on the campus and serve as an amenity for the community, English said.
Kilroy also added an 8,500 square-foot on-site fitness center operated by DRVN Unlimited, offering a variety of fitness classes with fitness trainers and a small running track.
"We really sell our market by the lifestyle we provide," English said.
The plaza also includes fire pits and a full-size bocce ball court.
Tenants Decide Office Design
The design of the offices themselves is up to the tenants who lease them, English said, but the lobbies in the three buildings were remodeled.
"We didn't gut the entire lobby area. What we did was try to pull out the most dated parts of it," English said.
That included installing more glass to let in more natural lighting and bringing in new furniture that has a Scandinavian look.
"The Kilroy Sabre Springs campus has been completely reinvented as a highly desirable place to work and play for both new and existing tenants," English said.
The general contractors on the project were DCT, Burger Construction and Bycor.