Vacationers Can Find Healthy Habitat at the Inn at Moonlight Beach
Thursday, August 22, 2019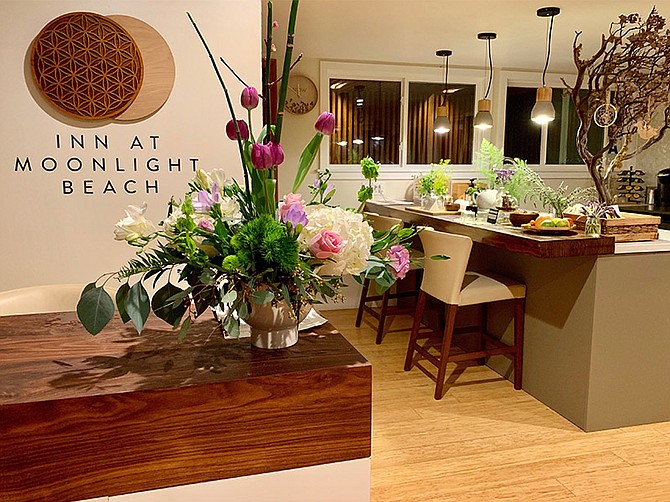 The Inn at Moonlight Beach, located in downtown Encinitas, has become the first hotel in the world to receive a WELL Certification at the Platinum level by the International WELL Building Institute and Green Business Certification Inc., according to a news release. A WELL Certification is awarded to properties that focus on "enhancing people's health and wellness," per the statement.
Shangwen Chiu Kennedy, owner and chief visionary officer for the inn and a professionally trained landscape, architectural and urban designer, said the Inn is intended to be a place that "uplifts, inspires and elevates the way people live." With five employees, the Inn at Moonlight Beach is a 4,000 square foot boutique hotel that offers five suites and 10 gardens. The entire property is on a biodynamic urban farm, according to Chiu Kennedy, with medicinal herbs, cut flowers and succulents and vegetables, fruits and teas that guests have access to. In 2019, Chiu Kennedy said the hotel's revenue has grown 25% to 30% and is on track to make $600,000 by the end of the year.
Recent Remodel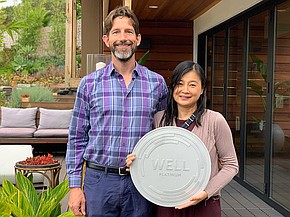 Chiu Kennedy said her intention was never to become an innkeeper, but when she and her husband and inn co-owner, Michael James Kennedy, encountered (and purchased) the property back in 2016, which had operated as a bed & breakfast for over 30 years prior, she couldn't pass on the opportunity. After extensive remodeling, the Inn at Moonlight Beach officially opened earlier this year.
The Inn's guests are both international visitors and locals, most of which are environmentally conscious, said Chiu Kennedy. She said that, while the Inn at Moonlight Beach is unique to Encinitas and most of San Diego, she considers nearby lower-budget hotels, ocean-front
vacation rentals of Leucadia and larger resorts such as Omni La Costa Resort & Spa as its competitors.
Meeting the Standards
To be awarded a WELL Certification, the Inn at Moonlight Beach underwent testing in seven categories: air, water, light, nourishment, fitness, comfort and mind, according to the press release. A final evaluation was then performed by Green Business Certification Inc. to ensure the certification level. The WELL Building Standard took seven years of research and development performed by physicians, scientists and industry professionals, per the release.
Chiu Kennedy said while the Inn at Moonlight Beach won't be expanding or adding rooms in the future, she does envision creating similar, possibly larger scale properties down the road, adding that she and her husband are currently working on a project in the Leucadia area that she describes as "intergenerational housing prototypes that can enable families to co-locate while maintaining some independence and privacy."