Lyford Named to California's Aging Stakeholder Advisory Committee
Thursday, August 15, 2019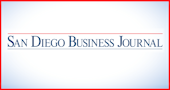 Shelley Lyford, the CEO of the nonprofit West Health, has been appointed to California's Master Plan for Aging Stakeholder Advisory Committee.
The committee is tasked with preparing the state for a so-called silver tsunami, in which the senior population is expected to grow by four million over the next decade. A plan is due by October 2020.
"The master plan will help ensure we holistically address these issues and better enable all Californians to age with dignity and independence," said Lyford in a statement. "Our goal is for California to be a model for the nation when it comes to aging in America."
Since 2006 Lyford has been with West Health, which includes the Gary and Mary West Foundation and West Health Institute in San Diego.
With her at the helm the foundation has awarded 535 grants totaling more than $212 million for senior-focused health care research and social services. Initiatives launched include a special emergency room at UC San Diego Health tailored to seniors.
Another highlight of Lyford's resume: board member of Civica Rx, a not-for-profit generic drug company with the goal of tackling shortages and high prices on life-saving medications.
Gov. Gavin Newsom in June signed an executive order calling for the senior master plan.