SENSORS ATTACHED TO FIXTURES RATHER THAN HARD TO REACH PIPES
WaterVault Gives Users Inside Info On Leaks
Wednesday, August 14, 2019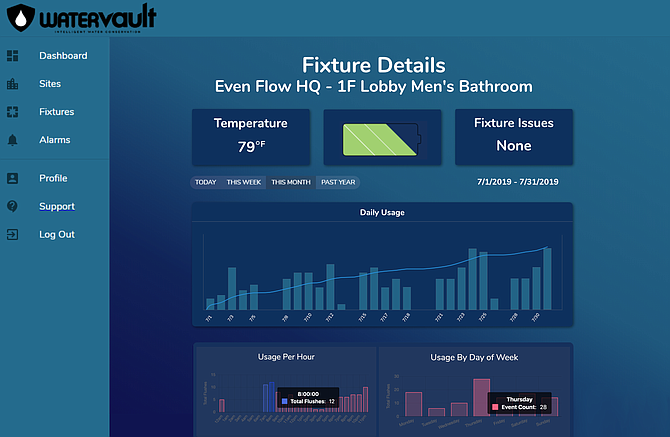 An eye-popping water bill gave Hooman Borghei the idea for his newest startup, WaterVault. Borghei, who was working as a manager at Qualcomm at the time, was renting out a few properties when he received the bill totaling a couple hundred dollars. Something was off.
Borghei worked with his tenant to find the culprit — a toilet with an intermittent leak. He then built a small device that would detect leaks in the future.
"That's how the first prototype started, as a device just for myself," Borghei said. "I realized there's a market for this."
Borghei founded WaterVault last year, and has begun manufacturing the devices, which track water flow at each tap. They currently sell for about $5 per month, making them cheaper upfront than competitors Flo and Phyn. Instead of being installed on the main water supply line, they're put in at each fixture, so users don't have to shut off water supply to the entire building to put them in.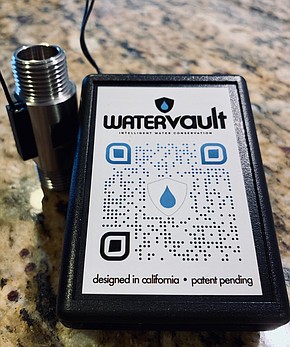 IoT Experience
Borghei has an extensive background in IoT devices. He was part of the team at Apple that built the first iPhone, and went on to serve as director of advanced technologies at Qualcomm, where he worked with cities and utility companies to develop IoT tools.
At first, he said, the sector started with "smart" devices that just connected smartphones to something else.
"I was a little bit jaded. The real purpose of IoT is we can build these really powerful sensors that can measure all this data," he said. "We can put all this data through cloud analytics to process it and do something really cool with it."
For WaterVault, Borghei sees the easiest opportunity in detecting silent leaks that might otherwise go unnoticed. Most of the time, once a leak is found, it's a quick repair.
"Leaks are a low-hanging fruit that can cause a lot of damage and are easy to fix," he said.
The average leak in a household can account for roughly 10,000 gallons in wasted water each year, according to the Environmental Protection Agency, and roughly 10 percent of homes have leaks that waste 90 gallons or more per day. In total, minor leaks account for about 1 trillion gallons of wasted water per year, according to the EPA.
Borghei is currently focused on selling the device to commercial users, such as hotels or property management companies, that might have a harder time tracking down a leak from their water bill. Additionally, the data collected by WaterVault can be useful for maintenance decisions. For example, a company might choose to replace the toilets that are used the most, rather than all of them.
Sales Team
WaterVault currently has five employees at its headquarters in downtown San Diego. Next, Borghei is looking to build out its sales team. So far, he has bootstrapped the company using his own savings.
Borghei, who grew up in San Diego, also hopes his efforts will reduce water waste in the long term.
"I like going outside, to the lakes, and you just see it — the water levels are all low. I'm constantly reminded about that," he said. "Let's leverage the technology we have at our disposal to get better."