IONIS HAVING GOOD DISCUSSIONS WITH FDA ON OTHER THERAPEUTIC
Ionis' Spinraza Gets Some Competition From Novartis' SMA Treatment
Wednesday, August 14, 2019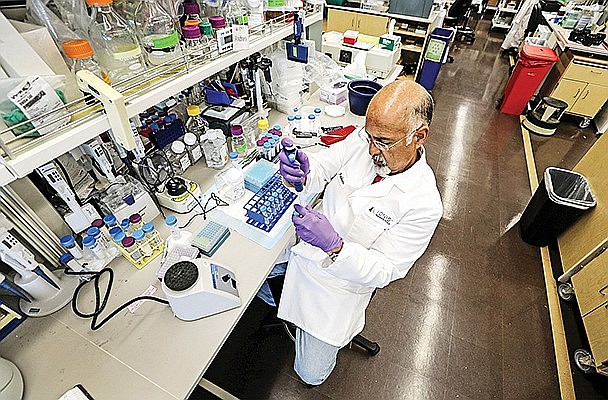 Ionis Pharmaceuticals' drug for a muscle-wasting disease continues to be the company's main driver of growth, with competition looming.
In second quarter results the Carlsbad company reported $164 million in revenue, a 39% year-over-year increase, on the back of rising spinraza sales. Ionis discovered and developed the drug, which is sold by commercial partner Biogen for spinal muscular atrophy.

Zolgensma, a one-time SMA treatment from Novartis, won approval in May with a record-breaking sticker price of $2.1 million for the one-dose drug.
Amy Brown with the publication EvaluatePharma said spinraza data released in June confirms that it set a high bar.
"The promise of more convenient therapies means that these data are far from the end of the story, of course, but any expectation of a quick demise for spinraza in the coming years is likely to prove wide of the mark," Brown wrote.
A sliver of second quarter sales — $10 million — came from tegsedi for a debilitating rare genetic disease called transthyretin amyloidosis, or ATTR. Additional revenue came from licensing payments.
Another Ionis drug, waylivra, for familial chylomicronemia syndrome, is poised to be released this month in Germany, followed by more European Union countries.
Last year, the U.S. Food and Drug Administration declined to approve waylivra, with Ionis working on a path forward. The company in the latest earnings report said it has continued to have "encouraging discussions" with the FDA. In addition, the company reported positive waylivra patient data.

Despite stronger sales, Ionis reported a $1 million net loss during the second quarter, compared with a $40 million net loss during the same period in 2018.
Ionis ended the quarter with cash, cash equivalents and short-term investments of $2.3 billion. The company said it has a 40-drug pipeline.