Airgain Names Jacob Suen as CEO
Wednesday, August 14, 2019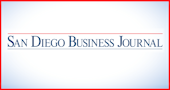 Airgain, a San Diego-based company that makes antenna technologies for wireless networks, named a new CEO on August 8. Airgain President Jacob Suen will take the reins from former CEO Jim Sims, and will join the company's board.

Sims had served as the company's interim CEO since May of 2018, and has been chairman of Airgain since 2003. He will retain his position as chairman of the board.
"Jacob has been an effective leader and has been instrumental in the company's success over the years. I am confident that under his leadership the company will continue growing and maintaining its unique position across the industry," Sims said in a news release. "After 15 months in the CEO role, I look forward to continuing to support the company as the Chairman of the Board."
Suen has been with the company since 2006, joining the company as vice president of worldwide sales. He opened Airgain's first subsidiary in China, and helped lead the company's strategic direction. In his new role, he will head up day-to-day leadership of Airgain.