EL JARDIN IS BEING REPLACED BY EL JARDIN CANTINA
Restaurant Generated Plenty of Buzz, But Not Enough Business
Sunday, August 11, 2019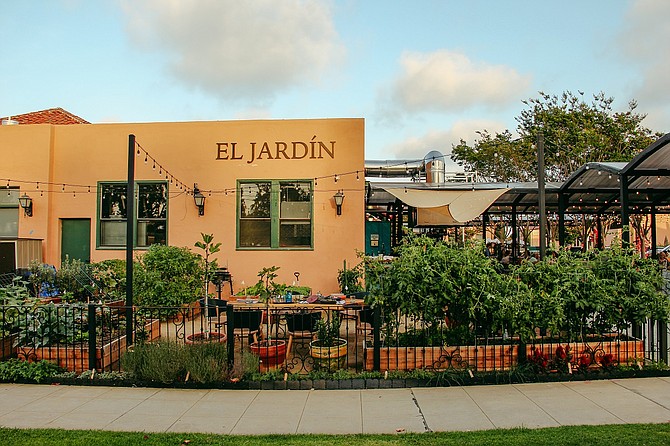 Last year, El Jardin restaurant, located in Liberty Station, was voted the No. 8 best new restaurant in the United States by Esquire magazine. In March, it got a full-length, The New York Times write up. And then in May, it was chosen as one of eight locations in San Diego included in the 151 affordable restaurants in California for Michelin's Bib Gourmand eateries list.
Despite all of the accolades and media attention, owner Johan Engman, founder of Rise & Shine Restaurant Group, recently announced he will temporarily shut the food place down and reopen it in late August as El Jardin Cantina, a casual Mexican food eatery. Chef Claudette Zepeda-Wilkins, who oversaw all culinary efforts for what used to be El Jardin, will no longer be involved.
Publicity Doesn't Pay the Bills
"At the one-year mark, in July, I said, 'if we can't drastically turn this around here in the next few weeks, I will need to pull the plug on this concept and change it' — that is what ended up happening," said Engman about his decision to shutter the place for four weeks. "We got some nice recognition, even a glowing review in The New York Times. But all that doesn't necessarily translate into the revenue one might expect. It was great to have all this media attention, but, if we are not making money, we can't pay our bills… And, that is when the decision was made."
Engman said he kept getting the same feedback from patrons and locals alike, suggesting he make the menu at El Jardin more approachable and family-friendly and not so high-end and pricey. He said, originally, when the concept for El Jardin came to him, long before he hired Zepeda-Wilkins, his vision was to create a place that served Baja Med food. But, when he hired Zepeda-Wilkins, whom he contacted through a mutual friend in the food industry, she proposed the direction be more regional Mexican cuisine, and, Engman agreed to it.
"She grew up between San Diego, Tijuana and Guadalajara… and I felt it would be an authentic way of bringing (forth) what we wanted to do," said Engman about why he hought Zepeda-Wilkins was the right fit at first. Because Zepeda-Wilkins' experience and preference isn't in the type of food creations Engman is looking to serve at El Jardin Cantina, she opted to step down, a decision Engman said he respects and understands.
But, Engman isn't too worried. He said the new concept will be exactly what the people want: affordable and welcoming.
"Guests can expect a great happy hour, a fun environment and they can expect it to be inviting to all ages," he said of Cantina. "You can come in for a margarita during happy hour or stay for dinner and it won't break the bank."
He's tapped the three current Rise & Shine chefs, corporate chef Cesar Garcia and corporate sous chefs Maryella Ortiz and Daniel Villegas, to oversee a collaborative concept for El Jardin Cantina. They are all Hispanics, said Engman, so, the food will be authentic.