COMPANY FINDS LESS EXPENSIVE MANUFACTURING; LOOKS TO GENERATE BUZZ
Brekki Breaks into Breakfast Business; Now Refines Packaging
Sunday, August 11, 2019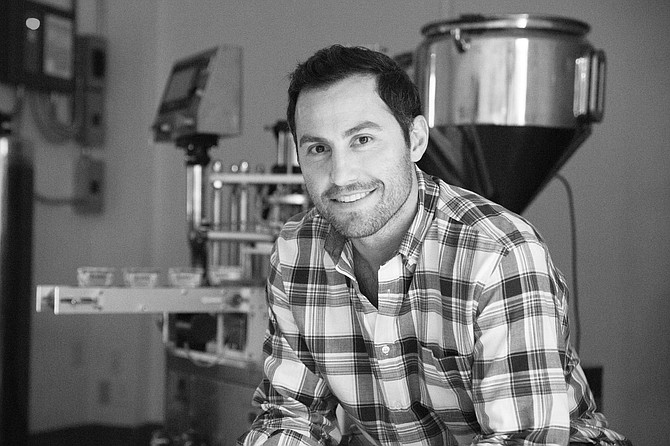 Starting this month, Brekki LLC, a Carlsbad-based company that makes ready-to-eat, refrigerated overnight oats, will be available in 142 Walmart stores in the East Coast and 15 Costco Wholesale locations in Southern California.
But before Brekki began its quest to become a household name, it was a love interest that eventually led founder and CEO Greg Peyser into the food space.
"I went to Las Vegas and I met a girl," said 35-year-old Peyser, who grew up in Long Island, New York, and attended Johns Hopkins University. "Six months later, I quit my job in Wall Street — my parents were like, 'you are out of your mind!' — packed my car and moved to San Diego."
It was through his relationship with that woman's family, which was in the agricultural business, that Peyser, who played sports in college and professionally and always had a passion for health and nutrition, began his relationship with the food industry. Today, that woman, Whitney, is Peyser's wife, and, together, the couple has three children. And, if you ask Peyser, it was this love story that originally led him to Brekki.
With five local employees, Brekki is available in Whole Foods, Frazier Farms Market, Lazy Acres Market and Mother's Market, among a list of others. Its revenue in 2018 was $800,000, and, in 2019, the company is projected to make $1.1 million in sales.
And, so, Peyser's career in the food industry began.
Suja Connection
Inspired by his newfound-love for the farming industry, Peyser launched his own distribution company in 2012 called Jack Family Farms Inc., which focused on organic produce. In 2013, he began working with San Diego-based Suja Juice Co. and shortly after, he sold Jack Family Farms Inc. to Suja. He worked there as director of procurement until 2017. After he raised $1.5 million from family, friends and various investors, he left Suja to kick off Brekki.
"I was privy to how fast-growing startups work," he said, adding that he and Suja co-founder, Jeff Church, became good friends, and,
later, Church too would invest in Brekki. "It was a fortuitous time to be involved in such a fast-growing juice brand."
Brekki, a term commonly used in Australia for "breakfast," came about when Peyser's former partner and fellow Brekki co-founder, Russell Radebaugh, introduced Peyser to bircher muesli, a hodgepodge of oats, seeds and fruit, popular in Europe and Australia. There was nothing else like it in the states, according to Peyser, until overnight oats.
Peyser felt overnight oats was healthy and hearty enough for him and his family, but when he searched for premade options, there weren't any. That's when he decided to create his own.
"My vision was to create a ready-to-eat overnight oats option that was truly healthy," he said. "I didn't just want it to taste good. I wanted it to be good for you… It took a lot of formulation trial and error but Brekki is dairy-free, gluten-free, vegan, certified glyphosate residue free by The Detox Project and completely free of artificial ingredients, GMOs and preservatives."
Today, Peyser said he sources his oats from Canada, chia and flaxseed from a variety of countries, and almond milk and fruits from the states. He recently transitioned from manufacturing in the Carlsbad headquarters to a co-packer in Ontario, California, which handles all manufacturing, labeling, packaging and shipping; the Carlsbad office now oversees all e-commerce, direct-to-consumer business. And, as a result of the new co-packing partnership, Brekki finally turned profit, for the first time, this summer.
"Manufacturing in Carlsbad is expensive, and overhead cost is really high," he said. "At one point, we had 20 employees and most of them were in manufacturing. We just couldn't make a profit and make it work. So, we found a co-packer who could produce the goods through cheaper labor and overhead."
Aside from the Walmart and Costco contracts, which Peyser landed through its incubator program and through a meeting with a broker, respectively, next for Brekki is some packaging innovation and format changes, said Peyser. This, he said, could mean the introduction of a four pack, four-ounce option, better suited for kids, as well as a 36-ounce, ready-to-eat, multiserving alternative.
Paid and Unpaid Influencers
But, for now, Peyser said he will continue to work to bring awareness to his oats. He said he promotes heavily on social media and through paid influencers, but, the most effective marketing is via in-store demos. So, from August to September, he plans to be, on the road, demoing his product at Costco stores.
"That, for me, is a captive audience," he said, "people want to be sold to, they are receptive and there is no better place to be."