ENTHUSIASM FOR NATURAL FOODS LIKELY TO DRIVE SALES
Banana Jerky Co. Looks to Grow its Market Online and In Stores
Sunday, August 11, 2019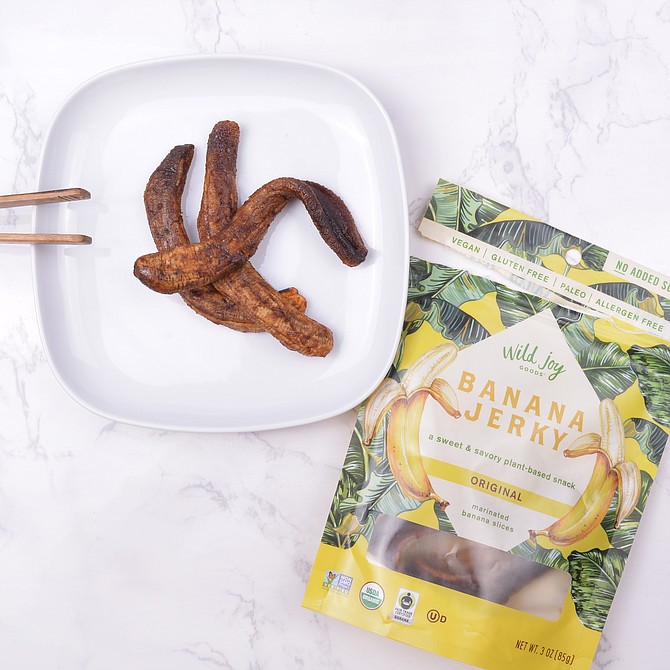 Banana jerky, made of dried organic, Non-GMO and Fair-Trade bananas, is disrupting the traditional beef jerky space.
The Kairos Group Inc., a Carlsbad-based company doing business as Wild Joy Goods since 2018, recently introduced to the market (via the Natural Products Expo in March) its banana jerky, a plant-based alternative to the traditional jerky options. The banana jerky, which comes in three flavors — original, ginger teriyaki and chipotle lime — was such a hit at the annual trade show that it won the 2019 Natural Products Expo's "Nexty" award in the "Best New Special Diet Food" category.
Founder Michael Antonorsi said he created Wild Joy Goods in hopes of offering "mindfully crafted plant-based foods that taste as good as they make you feel" and an option that is "socially and environmentally conscious." Funded by family and friends, Wild Joy Goods is currently available in Whole Foods Markets in the Southern Pacific region.
According to Antonorsi, the bananas for Wild Joy Goods are sourced from a cooperative of organic growers in Nicaragua, where they are dried on-site at a solar-powered facility. Wild Joy Goods produces, packages and ships everything from its facility in Carlsbad.
But why banana jerky?
For Antonorsi, who was already well-versed in the making of creative chocolate-focused combinations — he also owns Chuao Chocolatier, founded in 2002 and based in Carlsbad — it was about applying his culinary knowledge to create a high-end product that didn't include chocolate and offering a plant-based alternative that is both satiating and delicious. He said he created the vegan treat for those seeking a "sweet, savory and new experience using clean ingredients. Our
customer is seeking plant-based products developed with a conscientious approach to sourcing and social responsibility. We are also finding vegans are loving our product because we have created a sweet and savory product that fills their snacking and dietary needs."
Antonorsi himself became vegan
almost three years ago, and, while looking for a bacon alternative, he began toying around with marinating dehydrated bananas. Currently, he said there is nothing else on the market using the same technique of applying marinades to dried fruit.
Antonorsi said Wild Joy Goods is marketing heavily on the web, specifically via social media channels. The company also does live in-store demos and hopes to, in the future, create more videos and partake in podcasts, among other social media efforts, to continue to bring awareness to the fruit-based jerky treat.