Halozyme Reports Q2 Results
Thursday, August 8, 2019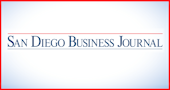 San Diego-based Halozyme reported $39.1 million in second quarter revenue, an 11% year-over-year increase.
The biotech derives revenue by licensing enhanze – its platform that delivers drugs under the skin, or subcutaneously, an alternative to time-consuming infusions.
Other than enhanze, Halozyme has a program targeting metastatic pancreas cancer in a late-stage clinical trial, with clinical data due out in December.
In the second quarter Halozyme posted a net loss of $14.6 million, or $0.10 per share, compared to a $22.9 million net loss in the second quarter of 2018, or $0.16 per share.
"We are very pleased with the strong progress in both pillars of our business in 2019," said Helen Torley, president and CEO, in a news release.