Lytx Lands New Customer in Moving Company
Wednesday, August 7, 2019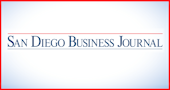 San Diego-based telematics company Lytx landed a big new client. The company will work with Coleman Worldwide Moving, to help manage its fleet of more than 700 tractor trailers.
Lytx provides video telematics and analytics to commercial fleets. Its DriveCams can detect abnormal driving patterns, such as sudden swerving, which can be used to coach drivers to improve safety. Coleman was especially interested in Lytx's ability to provide remote coaching, which allows them to connect with drivers when they're not in the office.
"The program has been exceptional in helping us ensure that our drivers are consistently elevating their skills to the next level, resulting in lower collision rates, reduced claims costs and an enhanced reputation for them and Coleman," Coleman's Director of Safety Gwen Vickers said in a news release.
"I'm such a big believer in video telematics because I've seen the positive outcomes that can result from it," she said. "Lytx is the best-in-class at every level, and it's a big reason why we chose Lytx as our provider."
Financial terms of the deal were not disclosed.