Carlsbad Digital Publishing Startup Raises $33M
Wednesday, August 7, 2019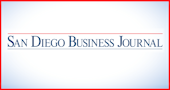 Ezoic, a startup in Carlsbad building a platform for digital publishers, raised $33 million on August 6. The funding round was led by Sageview Capital, a private equity firm that invests in technology and financial services companies.
Ezoic's business is based on an interesting combination: artificial intelligence and digital publishing. The company's goal is to build more attractive websites using machine learning.
For example, Ezoic can track a number of metrics on a website's users, such as how an article's word count affects reader behavior. The company uses this information to optimize the layout of a website and advertisements to help publishers grow traffic and revenue.
Ezoic was founded in 2011 by CEO Dwayne Lafleur, who helped create one of the first Facebook advertising networks. In 2014, the company closed a $5.6 million series A round led by Balderton Capital, and in 2015, the company joined Google's new Certified Publishing Partners program.
"Despite accelerating advances in technology, digital publishers still rely on many legacy processes from print and early online web publishing. Ezoic gives publishers a way to capitalize on all the opportunities that exist with digital content," Lafleur said in a news release. "Our platform has enabled thousands of web publishers to incorporate personalization and data science into their sites. The benefits of this approach are exponential and still untapped by many large brands and enterprises in the world of digital publishing."
With the new funding, Ezoic will build out features for its platform. Specifically, it plans to roll out tools to help publishers speed up their website and make their content easier to find using search engines.
Sageview Capital Partner Jeff Klemens will join Ezoic's board of directors as part of the deal.
"The feedback from Ezoic customers we spoke to was overwhelmingly positive, highlighted by the tangible ROI and revenue uplift they were achieving by using the Ezoic platform," Klemens said in a news release. "Sageview provides growth capital to leading companies with a demonstrated track record of success and a compelling market opportunity. Ezoic's strong growth, innovative products, and ambitious roadmap make it a strong fit for our portfolio, and we look forward to providing Dwayne and the Ezoic team financial and operational support to accelerate the business."