SDBJ INSIDER: AtYourGate Arrives in Ontario
Tuesday, August 6, 2019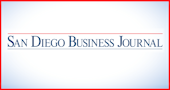 Who needs wings to fly? Apparently a lot of people do need chicken wings, burgers and assorted airport foods for their travels, despite the risk of spoiling that bag of free pretzels soon to come down the airplane aisle.
San Diego-based AtYourGate announced Ontario International as its latest service space for the airport food and retail delivery app. According to Ontario International Airport Authority, ONT is the fastest growing airport in the U.S.
AtYourGate already has an impressive list of airports including Newark Liberty International Airport, John F. Kennedy International, LaGuardia Airport and, of course, San Diego International.
AtYourGate was one of the first companies to go through the Airport Innovation Lab in San Diego. AtYourGate's founder and CEO is Paul Joseph "PJ" Mastracchio.
---
If food is not enough, try food and games.
Carlsbad-based NTN Buzztime Inc. recently announced an agreement with Diversified Restaurant Holdings to extend its entertainment services for 64 Buffalo Wild Wings franchises through 2020. Buzztime offers trivia, card, sports and arcade games.
Ram Krishnan is the NTN CEO.
According to NTN Buzztime, the company "delivers interactive entertainment and innovative technology that helps its customers acquire, engage and retain its patrons. Most frequently used in bars and restaurants in North America, the Buzztime tablets, mobile app and technology offer engaging solutions to establishments that have guests who experience dwell time, such as casinos, senior living, and more."
"Dwell time" is a tough space to inhabit — no doubt more challenging in the smartphone age, much more challenging.
---
Speaking of games: You have three guesses as to what Otay Mesa-based Jensen Meat Co. is selling?
It is a plant-based (hamburger) patty.
The meat company that says it produces "75 million pounds of ground beef annually from its new 150,000-square-foot state-of-the-art plant" is also selling 100% plant based, non GMO and gluten free patties as part of its Jensen Solos brand. The recent acquisition of a plant-based food business by Jensen's owners should help.
Anyone who sees the crowds at local vegan restaurants can understand the company's decision; besides, everyone deserves the bliss of a good burger.
Of course the Jensen Solos brand also offer a Jalapeno & Pepper Jack Cheese burger as well as a completely carnivore friendly beef and bacon burger made of 50% of each ingredient.
The company says the solo offerings provide an option to the single households.
Abel Olivera is CEO of Jensen Meat Co.