SOFTWARE: ALGORITHMS USED TO TAP KEY DATA
Startup Plans Better Clinical Trials
Monday, August 5, 2019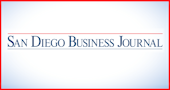 After losing her best friend to pancreatic cancer, Trials.ai CEO Kim Walpole knew something had to change.
Walpole headed up a consulting firm for pharmaceutical companies when her best friend, Paul, came to visit, with plans to move his family to San Diego.
"He said, 'I have a really bad stomachache," Walpole said.
When he got his diagnosis, the doctor told him he had five months to live. Walpole worked with her friends in the industry to find a few promising treatments, but by the time they would be trial-ready, he would be gone.
"I was like no, this isn't OK," she said. "People are dying because we're comfortable doing things the way that we've been doing them for the last 40 years."
Better Planning
Walpole co-founded Trials.ai in 2016, in hopes of making clinical trials faster through better planning. She put together a small team, including Chief Technology Officer (and husband) Tom Walpole, and Chief Science Officer David Fogel. All of them have experience running startups, and Fogel has done extensive research related to evolutionary computation, a type of AI.
To date, Trials.ai has raised $1.9 million in funding. The company recently closed a $1.1 million round led by Amplify.la, a Los Angeles-based firm that invests in early-stage technology companies. It previously raised funding from Sway Ventures, which has a San Diego-based office, and angel investors. Trials.ai has also graduated from local incubators EvoNexus, Nex Cubed, and is currently housed at Johnson & Johnson's incubator, JLABS.
Trials.ai originally started out as a tool to help companies manage clinical trials. But as Kim Walpole began reviewing companies' trial protocols, the documents that describe how a clinical trial will be conducted, she saw a bigger opportunity.

Problems in the Protocols
"We kept finding so many problems in the protocols themselves," she said. "If the problem in clinical trials was execution, it would already be solved. There are lots of solutions in that space. That was a huge 'aha' moment for us."
Trials.ai currently is developing a system to help build protocols for companies, helping speed up a time-consuming and costly process, and, it is hoped, resulting in better-designed trials.
Walpole describes clinical trial protocols as the "playbook" for a clinical trial. It's where you define who can participate in a trial, which sites will offer it, and what technologies can be used.
David Putrino, a neuroscientist who created a lab at Mt. Sinai Hospital to help health technology companies run clinical research, said protocol development is a "very powerful and very needed area."
"If you don't have the right protocol, it can be the death of a health tech product," he said. "I've seen a lot of products fail simply because they've got one shot; they only have funding for one clinical trial, and simply chose to study the wrong thing at that time."
Right now, companies can work with hospitals or research institutes to develop a protocol, but it costs a minimum of $20,000, Putrino said. With a protocol already developed, it's much cheaper to have it reviewed by experts.
"There's a whole universe of factors that need to be considered," he said.
Delivering the Data
Trials.ai's platform works a bit like TurboTax. Trial sponsors answer a series of questions about their trial — Is it for a drug or a medical device? What class of device? — and then the platform begins pulling in data and recommendations.
Walpole said Trials.ai's platform uses natural language processing to pull in public data from the World Health Organization and ClincalTrials.gov. It pairs that data with results from medical journals and internal data provided by the pharma company hosting the trial.

Trials.ai then evaluates which of that data is the most important for the clinical trial, and uses machine learning algorithms to provide recommendations.
For example, Walpole said Trials.ai was able to use the system to help a customer identify a nearly identical trial that had faced regulatory challenges around which patients were included. Knowing this, the client was able to design a trial that received regulatory approval a few months ago.
Patient Burden Index
Trials.ai is also working on a patient burden index, which take into account whether potential trial participants face onerous requirements. For example, Walpole recalled talking to a woman with multiple sclerosis about her clinical trial experience. Her husband would drive her to the sit of the trial, where she had to wait for eight hours, with no internet access. In the meantime, her mom would watch her two kids.
"In addition to the science, you have to consider the actual impact of this trial on the participant," Walpole said. "We're looking for burdensome requirements that might prevent patients from enrolling, or cause them to drop out of a trial."
Aside from the benefit to patients, there's also a big business case for better-designed clinical trials. For one, the fewer amendments or changes a company needs to make to a clinical trial, the more time and money they save. A trial might be amended if it's having difficulty enrolling patients, or if one of the trial sites doesn't have the needed equipment, for example. For a phase three clinical trial, a major amendment can cost $535,000 and put a trial back by another month or two.
Moving faster also gives pharmaceutical companies the potential to capitalize on a treatment sooner. The clock starts ticking on their 20-year patent before a clinical trial even begins.
"If we can make that even a month faster, it's a huge win for a pharma company. The value proposition for an organization is huge, but there's also this reality of lives being saved," Walpole said.
In Negotiations
Walpole said Trials.ai is currently in negotiations with three of the top 10 pharmaceutical companies. With the recent funding, she hopes to hire two or three more employees, and build out a tool to allow trial sponsors to construct a protocol online.
"In terms of recruitment, everyone's looking for data science people. We've been super blessed to be able to find people who buy into the mission," Walpole said. "It's so nice to have a 'why' behind what we're doing. This is so much bigger than building a technology."
Correction: This article has been corrected to reflect that Amplify.la was the lead investor for Trials.ai's recent funding round. The Business Journal regrets this error.