PROPERTY: PROJECT PLANS WAYS TO FIT IN ECO-SENSITIVE LOCATION
Development Faces Environmental Hurdles
Sunday, August 4, 2019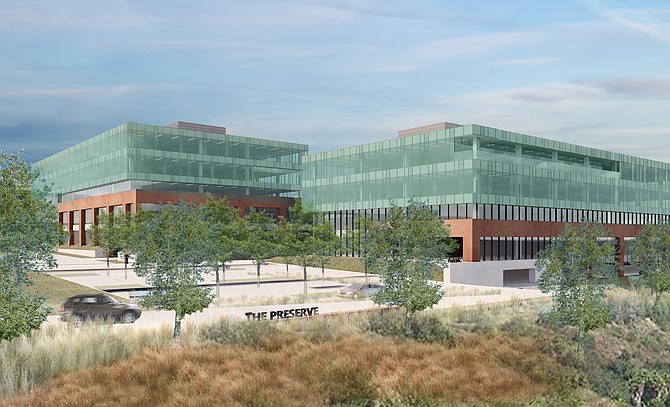 Cisterra Development plans to build a 420,000 square-foot office complex in Carmel Valley on an 11-acre site south of state Route 56 that it's calling The Preserve at Torrey Highlands.
The project was unanimously approved by the San Diego Planning Commission in April and is pending City Council review.
The catch, as its name suggests, is that the site is on the edge of a nature preserve — the 900-acre Del Mar Mesa Preserve that has hiking and mountain biking trails and is used by migrating animals.
The preserve is protected under the city's Multiple Species Habitat Plan, with parts of it under state and federal jurisdiction
The Sierra Club and a neighborhood umbrella group, Protect Our Preserve, want no development on Cisterra's property.
Rather, they want the land added to the preserve and have suggested that Cisterra swap its property with city owned land elsewhere.
"I don't think it's the worst project in the world, by a longshot, but I think it's in a terrible place," said Peter Anderson, chairman of the Sierra Club Executive Committee.
"It's not compatible with the preserve," Anderson said. "It's essentially surrounded by a nature preserve which we find odd and incompatible."
Cisterra is willing to keep looking at the swap proposal, but so far, no suitable land has been found to swap, said David Dick, Cisterra general counsel.
Moving Ahead
In the meantime, Cisterra plans to move ahead.
"We feel it's important for us to go forward and get our development permits," Dick said. "We are confident that this is the right project on the right site."
Lisa Ross, co-chair of Protect Our Preserve, said Cisterra moved too quickly in pushing for city approval before the land-swap proposal was exhausted.
"It needed more time," Ross said. "We had hoped we'd have until November, December to work through the issues. Unfortunately, we're back to having to battle them."
Formerly owned by the Roman Catholic Diocese of San Diego, the land had been earmarked as the future site for a church.
Land Sold for $8M in 2015
Instead, the diocese sold the land to Cisterra in July 2015 for $8 million.
The plan approved by the Planning Commission is smaller than what Cisterra initially proposed, which was a 450,000 square foot project. It was scaled down to 420,000 square feet at the commission's recommendation, Dick said.
As recast, the project would be comprised of two five-story buildings of 150,000 square feet each and a four-story building of 120,000 square feet with a parking garage.
Cisterra estimated the construction cost at $250 million.
Construction wouldn't start until tenants are secured, Dick said.
"We're not going to build it on spec," Dick said.
The project will eventually employ 1,939 people, according
Targeting High-Tech, Life Sciences
The target market is high tech and life science companies.
The plan is to "create a campus environment" for one-to three companies looking to expand their existing San Diego operations or relocate to the city, Dick said.
Stah Karras, executive director of the Burnham-Moores Center for Real Estate at the University of San Diego, said the Cisterra project is well-located because it's near neighborhoods that are home to life science and high-tech workers.
"Having a top class facility that is more proximate to the talent pool is an important aspect of keeping those individuals engaged and happy," Karras said. "We know we need facilities just because of the growth. If we put those closer to the labor pool and talent, I think it's a win-win situation. This would definitely do that."
Brett Ward, an executive director of the commercial real estate brokerage Cushman & Wakefield, said the Cisterra development would complement a mixed-use project planned on vacant land across the street — Merge 56, named for its proximity to state Route 56.
"With Merge 56 adjacent, it will have a good mix of residential and retail nearby," Ward said.
The $350 million Merge 56 would have commercial space, a movie theater, and a mix of detached homes, condominiums and apartments.
"The other big element is centered around the lack of large blocks of space in central San Diego," Ward said. "This project will allow companies to upsize and grow."
With vacancy rates running in the single-digit numbers for submarkets near the Cisterra site, "There's really no area for growth," Ward said.
Cisterra contends that short of giving up on the site, it has addressed environmental issues raised about the project's proximity to the nature preserve.
"We recognize that our neighbor to the west is a natural open space preserve and we're doing everything we can and more than that to respect that," Dick said.
Working to Preserve Nature
Among other things, the project includes fencing and other measures to keep people from wandering into the preserve.
Barriers have been designed to keep people out but allow migrating animals to pass by having space at the bottom of fencing, Dick said, and only native plants would be used in project landscaping.
Cisterra also is making $450,000 available to maintain, repair and preserve trails within the preserve.
Because of the likely tenant mix in the offices, Cisterra has agreed to commit an additional $400,000 to the Rancho Family YMCA in Rancho Penasquitos for after-school programs targeting STEM (science, technology, engineering and math) education, Dick said.
Lisa Ross of Protect Our Preserve said her concern goes beyond the Cisterra project itself.
The project requires a zoning change and an amendment to the community plan which governs development in the area, Ross said.
Once the plan is amended, Cisterra could turn around and sell the property.
"That would allow a much larger project if somebody else wanted to go back and wanted to do it," Ross said.