Vividion Therapeutics Nets $82M Series B Round
Tuesday, April 30, 2019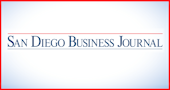 Vividion Therapeutics – which formed to transform drug development by targeting "undruggable" proteins – attracted an $82 million series B round.
The San Diego company wants to create new medicines in challenging areas, through a platform for tough-to-drug protein targets. These proteins lack pockets that small molecules – long the ammunition of drugmakers – can latch onto to interrupt the protein.
"Vividion's unique approach has allowed us to discover and advance exquisitely selective small molecules against high value targets that have been extremely challenging to drug historically," Diego Miralles, company CEO, said in a statement.
The company, a Scripps Research spinout, told the San Diego Business Journal it has three lead programs in oncology and immunology. Some of its work is part of a four-year drug development deal with Celgene, a pharmaceutical set to be acquired by Bristol-Myers Squibb.
The deal, announced last year, saw Celgene invest $101 million in Vividion. The company emerged in 2017 with a $50 million series A round.
The $82 million financing was led by Nextech Invest, which gained a seat on Vividion's board. Other new investors: BVF Partners, Casdin Capital, Mubadala Ventures, Trinitas Capital, Mirae Asset Capital, Altitude Life Science Ventures and Alexandria Venture Investments.
Existing investors ARCH Venture Partners, Versant Ventures, Cardinal Partners and Celgene also participated in the round.
With this round, the company has $165 million in cash.
"We are well positioned with substantial runway to maximize the multiple opportunities provided by our unique platform, bringing therapeutics to many patients in need," Miralles said.
Vividion's platform is based on the work of three Scripps scientists and company co-founders: Benjamin F. Cravatt, Jin-Quan Yu and Phil S. Baran.
The company has said another benefit of its technology is the ability to study proteins inside their native systems – whole cells, tissues and organisms. In contrast, most drugs are screened in artificial settings, a risk the results won't translate into animal or human models.
Vividion has about 70 employees.