ACCOUNTABLE CARE ORGANIZATIONS' SUCCESSES AND FAILURES RESHAPE THE LOCAL MEDICAL CARE MODEL
Looking For Results
Monday, April 29, 2019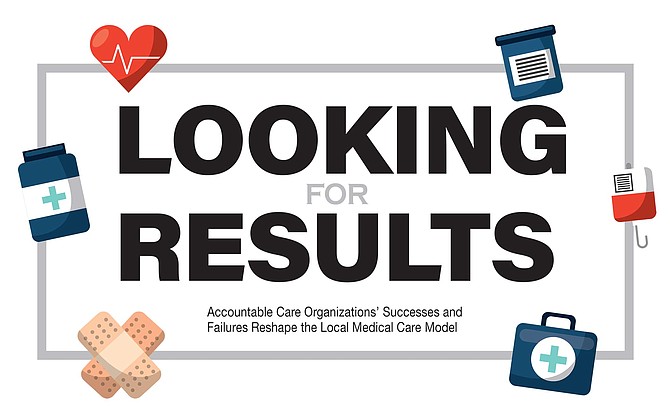 Seven years ago, accountable care organizations were billed as the next big thing in health care. How has the model — which offers financial incentives for quality care and lower costs — panned out in San Diego?
Results from hospital accountable care organizations, or ACOs, offer a glimpse. In its first year, a Scripps Health ACO saved money, Sharp HealthCare has fought federal rule changes that put its ACO in the red, and UC San Diego Health's ACO launched last year to test a new health care landscape.

ACOs launched as part of the Affordable Care Act to rein in soaring health care costs. If ACOs can deliver care for significantly less than a baseline, while hitting quality targets, they share in savings.
Conversely, some ACOs are on the hook for financial losses. Cost and care targets — and what's at stake — differ depending on the ACO.
ACOs are designed to get hospitals, doctors and others to work together on preventative care and eliminating duplication. In this way ACOs herald health care's push toward outcomes, rather than patient volumes.
In 2017, Scripps Health launched an ACO to care for 38,000 Medicare beneficiaries. In its first year the program saved $3.88 million compared with a baseline, according to federal data.
This fell short of a target calling for a 2 percent baseline cost reduction, meaning Scripps didn't share in the savings with Centers for Medicare & Medicaid Services. But the health system didn't have to pay, either.

"While we would have liked to achieve shared savings, this was still strong performance for a first-year ACO," Janice Collins, senior director of media relations at Scripps, said in a statement.
It has a three-year ACO, making shared savings in future years possible.

"It often takes ACOs 3-6 years to begin to realize shared savings. Additionally, our financial benchmark was lower than average, making it more challenging to decrease costs," Collins said.
There are various ACO models. Case in point, Qualcomm Inc. in 2017 contracted with a Scripps ACO to create a custom offering for the telecom giant's employees. Financial data on the Scripps-Qualcomm arrangement isn't publicly reported, but Collins sent internal data indicating patient satisfaction with the ACO.
Sharp HealthCare was part of a Medicare next generation ACO, a model that carries greater risk but with higher possible rewards.
The health system dropped out in early 2018, halfway into the two-year program. It argued Centers for Medicare and Medicaid Services was wrong to change terms midstream, which swung the ACO in 2017 from a savings to a loss.
Sharp is on the hook for $2.17 million in ACO losses, according to CMS data. Last October, Sharp submitted a notice disputing the loss, and CMS has yet to formally respond, per the health system.
"We believe CMS had the right to terminate the next gen ACO program or modify it going forward, but CMS did not have the right to change the program retrospectively," said Alison Fleury, senior vice president of business development for Sharp.
CMS altered risk scores — used to gauge patients' medical needs — on the belief that hospitals improved record-keeping of patients with chronic conditions. Sharp said its recording practices, called medical coding, were already well developed.
"Without that CMS-imposed reduction in risk scores, we are in a shared savings position and CMS owes us money," Fleury said.
Nationally, next generation ACOs saved CMS $129 million in 2017, while health systems that met targets earned $3.3 million on average, according to the publication Modern Healthcare.
While Sharp exited the program, the health system still participates in commercial ACOs with insurers United Healthcare and Aetna. Commercial ACOs, like Medicare ACOs, strive over a set period for savings and quality.
Todd Bennett said some commercial ACOs in San Diego kept costs lower than an industry average.
"I look at it from that perspective and I'd say they're faring well," said Bennett, the division director of employee health and benefits at Marsh & McLennan Insurance Agency.
Bennett said the longtime prevalence of managed care plans in San Diego — organized networks of providers — primed the region for ACOs. So did San Diego's geography, enclosed by the ocean, Camp Pendleton and the U.S.-Mexico border.
"An ACO tends to serve a very specific geographic area," Bennett said. He added Los Angeles' sprawl makes the model tougher there.

UC San Diego Health launched a Medicare ACO in 2017, as a way to test the waters amid a shift to valued-based care. This refers to health care increasingly prioritizing outcomes, rather than volume.

"As an academic medical center who traditionally cares for the most complex patients, this new era of valued-based care and population health hasn't really been top off mind for us," said Duncan Campbell, chief executive of UC San Diego Health's ACO.
The ACO would provide insight into Medicare patient costs and ways to lower them, lessons that could be applied to the wider commercial market.

"We know that commercial insurance, all the major insurance providers, are shifting to valued-based care. Basically what they're telling us is, 'You need to be able to provide higher quality care at a lower cost, give the patients a better experience, and by the way, we're going to put you at risk for achieving those objectives,'" Campbell said.
Its ACO includes more than 31,000 Medicare beneficiaries in San Diego, Riverside and Imperial counties. It was estimated their care would run $400 million based on past data of this population, a baseline the ACO will be measured against.
UC San Diego is charged with shaving 2 percent to 5 percent off the $400 million, which would equate to a savings of $8 million to $20 million. This would be split 50/50 with the federal government.
To share in savings, UC San Diego Health must cut costs by at least 1 percent, while achieving CMS care thresholds. But expenses higher than $400 million would translate into UC San Diego Health paying for 30 percent of losses, up to 4 percent of the baseline.
By this summer results of the first year will be released. UC San Diego and Scripps have a Medicare shared savings ACO, less risky than the program Sharp pulled out of.

Last summer, the Trump administration announced it would phase out a no-risk ACO model in 2020, in a bid to put greater onus on health systems to reduce costs, among other ACO changes, according to Kaiser Health News.

Critics countered the changes would trigger an ACO exodus.

Hospital-led ACOs haven't been as effective as physician-led ones. So said Garrett Schmitt, managing editor of ACOExhibitHall.com, a research hub for organizations considering ACOs.
He said ACOs task hospitals with reducing readmissions and hospital stays, which can cut into their bottom lines.
"CMS commercial payers' hopes alike is for hospital ACOs to shift their focus to earning shared savings on the back-end (through ACO savings) rather than through traditional means, but that is harder to effect in reality than it is on paper," Schmitt said. "Physician-led ACOs do not have that same distraction and are thus better able to adopt new preventative and cost saving measures without threatening their infrastructure."
Arch Health Partners Medical Group, affiliated with Palomar Health, has an ACO that doesn't publicly report results. Palomar Health declined to comment for the article.

See More > > Past VC Funding Likely Indicator of Strong IPO Market in 2019
Executive Q & A
Hospitals are changing with the times, particularly with the introduction of new technologies, as well as a changing funding paradigm. Special
Sections Editor Brad Graves, with the help of Health Care Reporter Jared Whitlock, asked several senior hospital executives about the advent
of new technologies and approaches — in short, what we might expect from the hospital of the future. Here are their edited responses