Delphi Private Advisors Merges with LourdMurray
Monday, April 29, 2019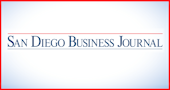 As part of a strategic investment by Chicago-based wealth management firm HighTower, San Diego-based Delphi Private Advisors announced plans to carry out a merger with LourdMurray in Beverly Hills. The combined advisory group is set to oversee $4.8 billion in assets with offices in San Diego, Beverly Hills and Baton Rouge, Louisiana.
Financial terms of the deal were not disclosed.
HighTower said it will own 98 advisory businesses in 33 states after the merger.
Delphi co-founders Keith McKenzie and Darren Reinig will serve as managing partners, according to HighTower. Reinig will serve as chief investment officer of LourdMurray after the merger.
Delphi Private Advisors was launched in November 2009. The company specializes in investment strategy and management, active tax management, wealth transfer and charitable giving.
Delphi's 10-person team will operate under the name LourdMurray Delphi during the transition. The investment by HighTower in LourdMurray's 21-person operation is the 23rd investment by HighTower in a registered investment advisory firm since its inception.
HighTower secured a similar strategic partnership with Tennessee-based Green Square Wealth Management in February.
HighTower said it expects the LourdMurray-Delphi transaction to close in Q2 2019.