Construction Found 2018 Was a Building Year
Sunday, April 28, 2019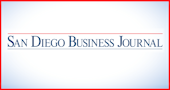 Maybe the number of cranes popping up in San Diego's skyline were a tip-off, but a project management and cost consulting firm reported that construction surged at the end of 2018, finishing at nearly 15 percent growth compared with 2017.
Construction activity is expected to grow at a more modest 2 percent to 3 percent for the rest of 2019 into 2020, according to the Los Angeles-based Cumming Corp.
Spending on infrastructure – such as roads and the like — led the surge with infrastructure spending rising from nearly $1.5 billion in 2017 in San Diego County to about $1.8 billion in 2018, according to Dan Pomfrett, regional director of Cumming Corp.
Residential construction along with school construction and that related to health care are likely to be strong, Pomfrett said.
"Most other sectors tend to be either plateauing or going into the slight negative in terms of growth," Pomfrett said.
The challenge continues to be finding skilled workers, with labor trades such as steel erectors, welders, plumbers, pipe-fitters, sheet metal workers and electricians most in demand, the company said.
"In the recession, San Diego lost about 36 percent of its labor," Pomfrett said. "It still hasn't recovered to those levels."
Real estate reporter Ray Huard may be reached at rhuard@sdbj.com or 858-277-8904.