CalPrivate Bank Names CFO, Completes Private Debt Placement
Sunday, April 28, 2019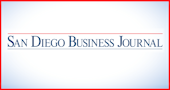 The executive board of La Jolla-based Private Bancorp of America, the holding company of CalPrivate Bank, named Richard Pimentel the next chief financial officer of CalPrivate, effective May 1. Pimentel joins CalPrivate from L.A.-based Hanmi Financial Corp., where he served as senior VP and corporate finance officer.
CalPrivate (OCTQX: PBAM) announced Pimentel would replace current CFO Eric Larson and that it had completed an $18 million subordinated debt placement on April 25.
"Richard brings decades of experience in the CFO, treasury and finance roles of several California financial institutions to his new role at our bank," CalPrivate CEO Thomas Wornham said in a statement. "We are confident that Richard is the right person to build upon our existing finance foundation and take us to the next level."
The bank completed its private placement with an institutional investor on April 25. The bond is set to mature in 2029 and will retire $8 million from a 2015 debt placement. Interest on the 2029 bond for the first five years was set to 6 percent and will be priced at a LIBOR-based floating rate.
CalPrivate said the debt is not redeemable for the first five years.