Viasat Partners to Provide In-Flight Connectivity Services in China
Wednesday, April 24, 2019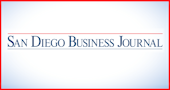 Carlsbad-based tech firm Viasat has announced a strategic partnership with China Satellite Communications to provide in-flight connectivity services to domestic and international airlines flying over China. The terms of the partnership will enable Viasat's airline clients to access China Satcom's satellite network.
China Satcom is the only firm in China to operate the satellites necessary for in-flight connectivity.
Viasat is set to provide equipment to Chinese airlines using the China Satcom network. The company, Viasat, currently services approximately 2,000 aircraft for in-flight connectivity services.
"Per the terms of the agreement, each company will maintain its own intellectual property and will operate its equipment using a multilayered approach to network services," Viasat said in a prepared statement. "This agreement specifically covers commercial aviation IFC, but could extend into the development of new connectivity applications for other ancillary markets in China."
Viasat penned a wholesale distribution agreement with Brazil's Ruralweb to deploy high-speed internet services throughout Brazil on April 19.