Firebird Flies in for a Visit Demonstrating Its Versatility and Availability
Wednesday, April 24, 2019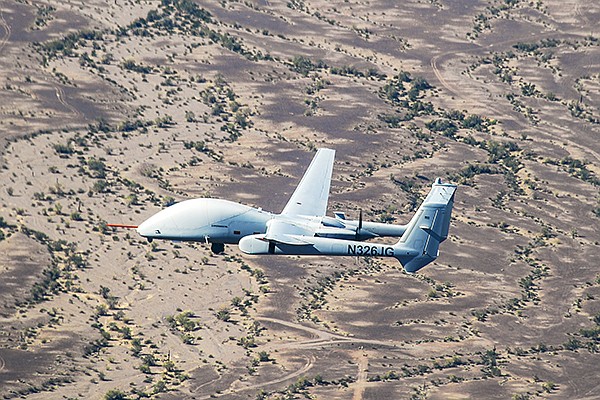 What's spindly and gray, with twin tails and a backward-facing propeller? Nope, it's not a riddle. It probably was what a lot of people at Montgomery Field were asking each other on April 17 as they viewed the strange aircraft on the other side of the chain-link fence.
Northrop Grumman Corp. flew its experimental Firebird aircraft south from its hangar in the High Desert to Kearny Mesa that day to show it off. The big defense contractor designed the aircraft in San Diego and runs the Firebird program from its Rancho Bernardo offices.
Company officials say the aircraft is versatile, and part of that versatility is its ability to fly without a pilot onboard. Alternately, it can carry a pilot plus one other person.
Firebird can also carry whatever complement of sensors its owner wants. On its visit to Kearny Mesa, it was carrying a 15-inch electro-optical infrared detector, suitable for military reconnaissance or a response to a natural disaster.
Northrop Grumman (NYSE: NOC) already has customers for the aircraft, but company executive Kristen Griffin declined to say who they are. Nor would she give a price for a production model of the Firebird. She did say, however, that the company was positioning this aircraft as inexpensive to buy and inexpensive to fly. (Griffin, by the way, holds a doctorate in astrophysics. She is director of strategy for Northrop Grumman's unmanned systems business.)
The real riddle here may be how well Northrop Grumman can promote, and how widely it can sell, the Firebird, and how well it can sustain the aircraft once it's out on the market.
The company showed off an initial version of the Firebird in 2011, but has stayed fairly quiet since. The original plane was a one-seater.
With its long wings and its spindly appendages, the aircraft had an insect-like appearance while coming in for a landing on April 17.
It seats two people, but over the course of four hours, its owner can convert it to a remotely controlled, unmanned aircraft. They can take out the seats (and the space heater) and install a dome with radar dish for satellite communications. The ground station to fly the Firebird is just the same as the cockpit, Griffin said.
With the ability to stay in the air for up to 30 hours, at least one media account has compared the Firebird to the Predator aircraft, built in Poway by General Atomics Aeronautical Systems Inc.
The military has to break down a Predator and transport it to its base aboard a large cargo plane, the account said. Firebird might make that task simpler, taking cargo planes out of the picture. A pilot can simply fly the plane to its remote base. Once there, a crew can convert it to work as an unmanned spy aircraft.
Griffin said the aircraft should not be put into a specific category, such as medium-altitude, long-endurance (MALE) military unmanned aircraft. She asserted that the Firebird transcends categories, and will be able to perform jobs for the military, civilian government agencies and industry. The oil and gas industry, for example, could use it to survey infrastructure.
And if a user doesn't need one full-time? That customer may be more comfortable leasing from third parties, for limited periods.