Bike Tour Delivers Customers to Downtown Businesses
Wednesday, April 24, 2019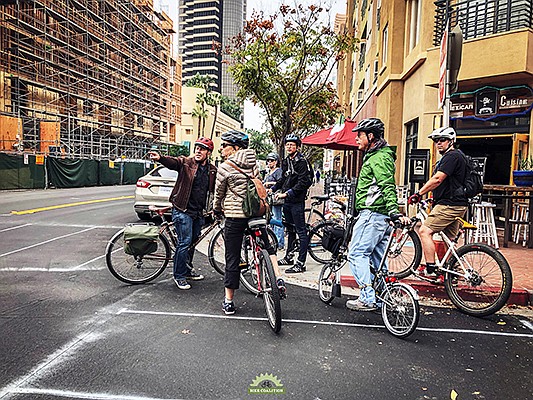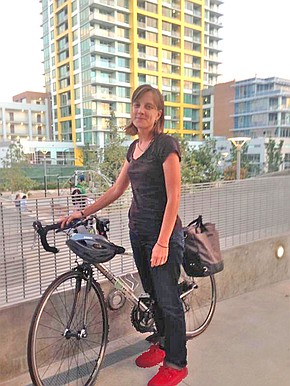 For over 30 years, the San Diego County Bicycle Coalition has focused on supporting cyclists and improving biking infrastructure through education and advocacy. But, these days, the SDCBC has a new goal in the works.
Last summer, the East Village-based nonprofit received a $30,000 grant from the City of San Diego Department of Economic Development to kick off a guided bike tour program in the downtown sector of the city in hopes of boosting the local economy. And, on Dec. 21, the SDCBC held its first "Urban Sites, Bites and Bike Tour," which donates all of the proceeds from the tours back to the area's businesses it has partnered with.
For $25 per adult and $15 per child, riders get a four-hour, six-to-seven-mile long ride that meets at the Broadway Pier at the Embarcadero with two certified guides leading the way, and takes them through the Broadway Pier, Midway, Seaport Village, Gaslamp, Petco Park and East Village, among other locations. The tours also make stops at six local downtown food and beverage shops, including Carnita's Snack Shack, Stone Brewing Co., Gelato Paradiso and Social Tap, where the cyclists can come in, get a tour of the facilities and the production as well as enjoy gelato, an alcoholic or nonalcoholic beverage and some bites to eat. Bikes and equipment are provided for no additional fee by local bike shops or riders can bring their own. Bike rides are held one to three times a month depending on the time of year and weather.
To promote the bike tours, Michelle Luellen, program director for the SDCBC, said the nonprofit does quite a bit of outreach through the San Diego Tourism Authority as well as its own networks.
"We send out a lot of marketing materials to bring tourists to San Diego and then we work with the businesses to bring tourists to their businesses," she said, adding people can sign up via the SDCBC website. "Some businesses talk about what they do and others even do behind-the-scenes tours through which they show how they make, for example, the gelato. It's a very special experience for the participant."
Luellen said that while the bike tours currently take place on the street, the SDCBC is strongly advocating for protected bike lanes. She said that downtown San Diego kicked off construction on a network of protected bike lanes in December. In 2013, The New York Department of Transportation reported a 49 percent increase in local retail sales after implementing its 9th Avenue protected bike lane. According to data released by Outdoor Industry Association in 2017, bicycle tourism contributes $83 billion annually to the U.S. economy and generates $97 billion in retail spending. Bicycle recreation spending also contributes to the creation of 848,000 jobs. Luellen hopes the SDCBC bike tours will have a similar effect on the downtown area.
According to Luellen, increasing the number of bicyclists is important to the downtown economy because the lack of parking in the neighborhood takes a financial toll on the local businesses.
"The amount of people that need to come in to sustain the downtown businesses is not equal to the amount of parking spaces available," she said. When you do outreach and have a bike-friendly business, with good bike parking out front, "you will have an increase in business always," she said. People ride slower, they are more social, and if they see businesses catering to them, they will most likely enter, return and bring friends, she added.
"Cyclists are loyal, friendly, social and most times of higher income," she said.
Luellen said Jeff Motch, who owns Blind Lady Ale House, Panama 66 and Tiger!Tiger!, is a downtown business owner who is especially intent on attracting business from those on bikes. He does so by having bike parking outside his businesses and also offering discounts to patrons that come on bicycles, she said. Motch could not be reached for comment.
Through the help of future grants, Luellen said she hopes to grow the SDCBC bike tours to other parts of the city, including North County, as she's already gotten requests from residents of that area.
"We would love to," she said, "it really all just depends on funding to pay for a coordinator to do the behind-the-scenes work."