Startup Founded by Former MySpace Exec Raises $3M
Tuesday, April 23, 2019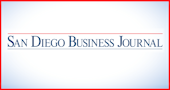 GoMeta Inc., a San Diego startup making it easier to build mobile apps, closed a $3 million seed round on April 23, bringing the company's total funding to $6 million. CEO Dmitry Shapiro, the former chief technology officer of MySpace Music, co-founded the company in 2016 after working for Google for four years. He is joined by Co-Founder and Chief Technology Officer Sean Thielen.
On Tuesday, GoMeta also unveiled its new development platform, Koji, to allow novice developers to build mobile games, social sites and other types of apps.
"We're shrinking app development times to hours or days instead of months, and enabling novice developers to build and effortlessly deploy apps with Koji," Shapiro said in a news release. "Just like video-sharing websites dramatically lowered the difficulty of publishing video and inspired millions of new content creators to broadcast, we're lowering the difficulty and decreasing the time it takes to release web applications. Koji invites millions of new people to become app creators."
Bitkraft Esports Ventures led the most recent round of seed funding for the company. Other investors include Moonshots Capital and Next 10 Ventures.
GoMeta currently has 11 employees in its offices downtown.