Avidity Biosciences Bags $35M Upfront from Eli Lilly
Tuesday, April 23, 2019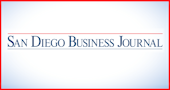 La Jolla's Avidity Biosciences will receive $35 million upfront and potentially much more through a deal with Eli Lilly.
The companies are tapping Avidity's platform to deliver oligonucleotides— short DNA or RNA molecules – and target genetic disease drivers. They believe the technology could produce new RNA medicines.
Eli Lilly will pay Avidity $20 million upfront, and invest $15 million in the company. In addition, Avidity is eligible for $405 million per drug target through development, regulatory and commercialization milestones, along with tiered royalties on sales. That's assuming drug approval.
"This collaboration with Lilly provides an exceptional opportunity to leverage Avidity's proprietary AOC platform in order to generate new therapeutic targets in disease areas that have been challenging to pursue using oligonucleotide-based approaches," said Kent Hawryluk, Avidity's chief business officer, in a news release.
"Lilly's extensive research, development, regulatory, and commercial capabilities make them an ideal partner."
Avidity's platform seeks to combine "the tissue selectivity of monoclonal antibodies and the precision of oligonucleotide-based therapeutics," the companies said.
Eli Lilly is based in Indianapolis.