Aquacycl Helps Food and Beverage Cos. Deal With Sludge
Tuesday, April 23, 2019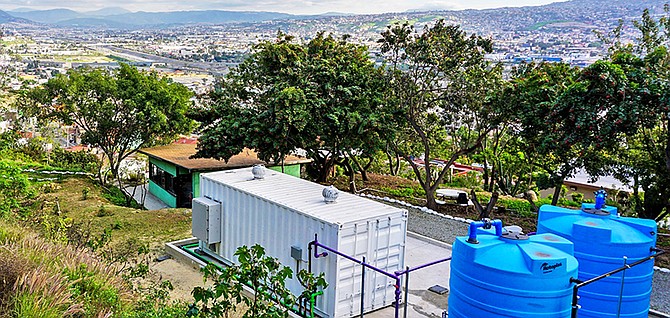 Most San Diegans can appreciate a good glass of beer. But few think about what's left after the brewing process.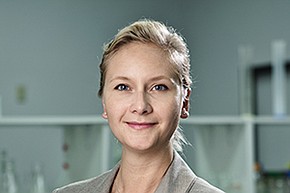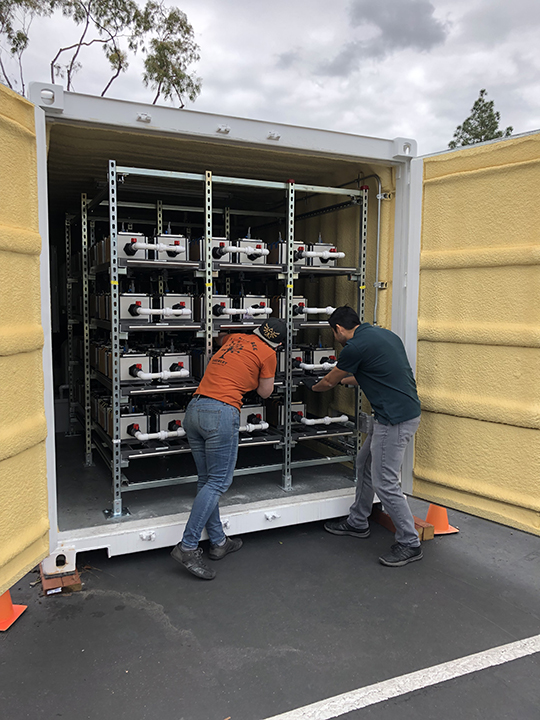 AQUACYCL
CEO: Orianna Bretschger
Funds raised to date: $3 million
No. of local employees: 14
Investors: Roddenberry Foundation, angel investors
Headquarters: Sorrento Valley
Year founded: 2016
Company description: Aquacycl makes wastewater treatment units that employ electricity-generating bacteria.
Brewing a gallon of beer generally results in four to seven gallons of wastewater. For every barrel of wine, about five barrels of wastewater are generated. A San Diego startup, Aquacycl, is looking to help change that, by helping food and beverage companies treat their sludge before it goes to the sewerage system.
"We think about water and wastewater as two different things, but it's not," Aquacycl CEO Orianna Bretschger said. "Every drop of water we use, has been used billions and billions of times before."
Bretschger co-founded Aquacycl with vice president of R&D, Sofia Babanova, and vice president of hardware and manufacturing, Ryoji Naito. The company was spun out of Bretschger's research at the J. Craig Venter Institute. The team received a $5 million grant from the Roddenberry Foundation — named after "Star Trek" creator Gene Roddenberry — to commercialize what they had done in the lab.
"The Roddenberry family are avid scuba divers, so ocean protection is important to them. They've seen parts of the world that don't have access to sanitation or clean water," Bretschger said.
Aquacycl hit all of its milestones early, and returned to the foundation, which gave it its first investment, a $1 million match.
"We've been raising since then to help accomplish our goal," Bretschger said.
One of the company's first clients is Joshua Tree Brewery, a craft brewer located at the entrance to Joshua Tree National Park.
Currently, most breweries pay a fee based on the amount of organic material they discharge to the sewerage system, where the water is then treated by a municipality. For the largest brewers, it's worth the cost to build in their own treatment plants. Stone Brewing Co., for example, has a wastewater treatment plant at its headquarters in Escondido.
Since the area around Joshua Tree had no centralized sewage treatment plant, Joshua Tree Brewery had to install its own water treatment equipment. A local engineering firm recommended Aquacycl to do the job.
"We were significantly cheaper than what everyone else was quoting him," Bretschger said.
Bretschger said Aquacycl helps new and established companies save money by building small reactors that use a combination of bacteria and electricity to treat sludge. As the electrical current becomes stronger, the bacteria "eat" more organic material, generating electricity in the process. Bretschger said the company was working to recoup more of the power cost for its cells, which currently offset 20 percent to 100 percent of the power its systems demand.
"We're able to reduce incoming sludge by up to 80 percent in very short time," she said. "We can accomplish in hours what most conventional technologies will take days to do."
Aquacycl's other clients include the U.S. Army and U.S. Navy, which use it for water treatment on base and at forward operating bases. The company currently has $700,000 in its sales pipeline, and lets clients buy its units outright or contract its services.
Bretschger said she wants to expand the company's sales team this year, as well as grow research and development to automate more of Aquacycl's operations. She doesn't just have her sights set on beer: Bretschger said the company is able to scale its equipment up to processing 200,000 gallons per day, enough for large food and beverage operations, such as Coca-Cola plants or Mars' chocolate factories.