PROPERTY: LUXURY OFFERING SHORT ON SPACE, BUT BIG ON AMENITIES AND STYLE
San Diego Is Test Market for Company's Micro Apartments
Monday, April 22, 2019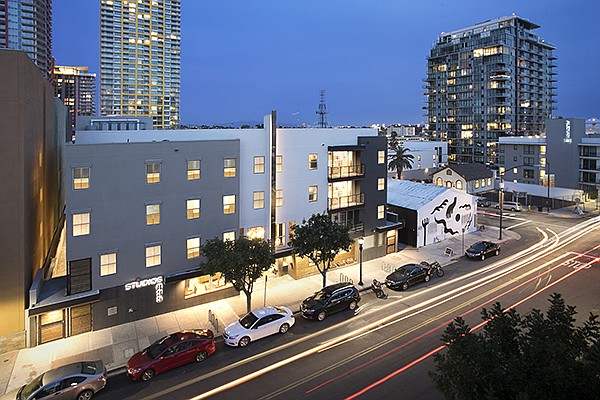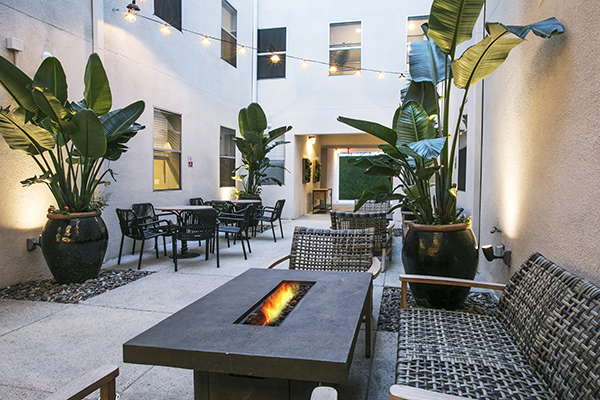 Tiny apartments — some so small that they'd almost qualify as walk-in closets — are making a go of it in downtown San Diego.
In a first for San Diego, the real estate investment firm FPA Multifamily LLC based in San Francisco, has converted a former East Village single room occupancy hotel (SRO) into a micro apartment complex — Studios435.
The project also is a first for FPA — an experiment of sorts to test the market for micro apartments, said Michael Earl, the firm's chief operating officer.
"We're trying this out and seeing if we want to offer it in different cities across our platform," Earl said.
Studios435 is actually two four-story buildings that were once the Hotel Metro — one at 435 13th St., that was renovated to have 60 micro apartments and a smaller building across the street at 434 13th St., that now has 26 micro apartments.
FPA acquired the buildings in April 2016.
Earl declined to say how much the firm paid for the buildings or how much it spent renovating them.
"We essentially had to gut the building," Earl said. "We had to redo the elevators. We had to redo all the heating and air conditioning systems, the roof. Really, the only thing that's still there is the exterior shell."
The apartments range from 188 square feet to 386 square feet, three of which are balcony apartments overlooking 13th Street.
Because they're so small, space is at a premium.
Large windows that can be opened and let in natural light make the apartments seem less confining.
Each apartment has a Murphy bed and a table-top, both of which fold into the wall.
They also have a full bathroom and kitchens — a big change from the Hotel Metro, in which residents shared bathrooms and kitchens.
The new apartments — billed as luxury apartments — also come with gas ranges, combination convection/microwave ovens, refrigerators and flat screen televisions.
Each building has a furnished first-floor lounge and a laundry room with washers and dryers that alert residents via cellphone when their washing's done.
At 435 13th St., there's also a business center and a furnished outdoor patio. A similar patio space in the smaller building has been converted into an indoor/outdoor gym.
The Rents
Monthly rents range from $1,399 to $2,075. In addition to rent, residents pay a monthly utility fee of $50 and a monthly "smart home" fee of $99.
The smart home fee covers internet service, cable television, a flat screen television, keyless entry and Alexa — Amazon's virtual assistant.
For an additional monthly fee of $99, residents can get a fully furnished apartment, right down to towels, bedding, pots and pans, dishes and flatware and toasters and other small appliances.
To move in, "all you need is your toothbrush and suitcase," said Marissa Padilla, the community manager and a Studios435 resident.
By comparison, monthly studio apartment rents at the nearby Shift apartment building range from $1,872 to $2,320 and monthly rents at the nearby Modera apartments being built at 14th and K streets will start at about $2,000 for a studio.
Lease terms at Studios435 are available for six, nine and 12 months, Padilla said.
Earl said San Diego seemed a good fit for micro apartments because "all the stuff being built is on the high side."
Studios435 may be the first, but it may soon be one among many micro apartment complexes in San Diego, said
Rachel Parsons, a director with Moran & Co. apartment brokerage.
"I have a lot of clients who are interested in the micro unit concept. I think we'll see a lot more of them in the future," Parsons said. "They're tiny and they definitely fill a niche in the downtown marketplace because the overall dollar rent offers a price point that you don't see anywhere else downtown."
Alan Nevin, director of economic and market research for Xpera Group construction consultants, said "there is a huge demand" for the small apartments.
Living Alone
Nevin said an American Community Survey by the U.S. Census Bureau reported that 60 percent of people living downtowns in the country live alone.
People would rather have their own micro apartment than share a bigger apartment with a roommate, Nevin said.
Although Studios435 is a first for downtown, architect Jonathan Segal is building a market rate micro apartment building in Little Italy — The Continental — that will have 42 apartments averaging 380 square feet.
The Nook, a micro apartment affordable housing project with income limits for residents, has also opened in East Village near Studios435 at 330 15th St.
Parsons said she can see the appeal of Studios435.
"If I were in my 20s and wanted to live downtown by myself, this certainly would have been an option," Parsons said. "Even though the units are small, they've got some really nice finishes. They're very efficient and you still have a gym and a nice common area lounge so you don't have to spend all your time in your small unit."
Besides, one of the attractions of living downtown is that there's so much to do and places to go that people are inclined to spend much of their time going out.
Micro apartments also provide housing options for people who work in the hotels, restaurants and retail shops who can't afford to live in a pricey apartment tower, Parsons said.
90% Leased
The apartments in Studios435 went on the market about a year ago, and so far, the building is about 90 percent leased.
About 80 percent of renters are from outside California and about half work downtown.
While Studios435 is FPA Multifamily's first venture in micro apartments, the company has several other assets in San Diego County.
They include Arrive Mission Valley with 185 units and Capella at Rancho Del Oro Luxury Apartment homes with 284 units in Oceanside.
Redwood Construction Inc. was the general contractor and SVA Architects did the renovation. Trinity Property Consultants manage the property.
Real estate reporter Ray Huard may be reached at rhuard@sdbj.com or 858-277-8904.
See More >> Downtown Development May Take a New Turn As Civic San Diego Loses Its Role in the Process