San Diego-Based TPT Global Agrees to Buy Assets of Michigan Company
Monday, April 22, 2019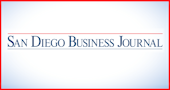 San Diego-based telecom TPT Global Tech Inc. has signed an agreement to acquire the assets of Michigan internet service provider SpeedConnect LLC. for $2 million while assuming certain liabilities.
The purchase agreement is subject to a $500,000 deposit, a $500,000 payment due at closing, and two additional payments for $500,000 with a 10 percent annual interest within 30 and 60 days of closing.
TPT Global (OTCBB: TPTW) said part of the agreement included a $1 million contribution from TPT to the assets at working capital due on or before 90 days before closing. The cash infusion, according to the buyer, will enable the company to grow its 5G footprint to.
SpeedConnect serves 20,000 residential and commercial customers in Arizona, Idaho, Illinois, Iowa, Michigan, Montana, Nebraska, South Dakota and Texas. The company also resells third-part satellite internet, DSL internet, IP telephony and DISH TV products.
TPT Global Tech acquired Goodwin Global, Digithrive, San Diego Media and Trucom Networks in 2016.
TPT Global Tech and SpeedConnect reached the asset purchase agreement on April 8.