TECH: Settlement Puts Qualcomm Back In 5G Driver's Seat
Sunday, April 21, 2019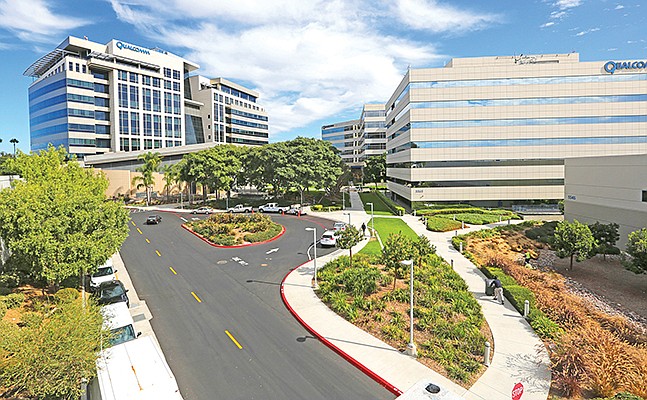 Qualcomm Stock Price
$67.11 – 4/17/15
$51.06 – 4/15/16
$52.79 – 4/13/17
$55.73 – 4/13/18
$79.08 – 4/17/19
The announcement that shook the tech world last week immediately brightened Qualcomm Inc.'s future.
Wounded in a fight with Apple Inc. over patent licensing fees across the globe, unable to complete the deal to acquire NXP Semiconductors N.V. after China shot down its bid last year, and getting nowhere near the promised $100 stock price, the San Diego chipmaker needed the good news.
It was just two days into Apple's multibillion-dollar antitrust trial against Qualcomm before U.S. District Judge Gonzalo Curiel. The two tech giants had been embroiled in a scorched-earth legal battle spanning more than two years and 80 cases.
The consequences of a loss for Qualcomm in the trial that began in Curiel's San Diego courtroom April 15 could have been staggering: Apple and its contract manufacturers were expected to seek up to $27 billion in damages based on past royalties they had paid. Qualcomm would have sought at least $7 billion — the rough equivalent of unpaid royalties since Apple stopped paying for licensing in April of 2017.
Attorneys for Qualcomm, Apple, and its contract manufacturers had laid out a litany of points in opening statements before the nine-person jury. They spoke about the damage done to their companies, told sentimental stories about when Apple and Qualcomm were just startups in a garage, and compared patent licensing to Kentucky Fried Chicken.
And then, within minutes, it was all over.
Separately from the unfolding trial, Apple and Qualcomm jointly announced that they would settle all of their cases against each other. Curiel sent the jury home. Though financial details were sparse, Apple would pay Qualcomm an undisclosed amount, and the two companies signed a six-year licensing agreement, with the option for a two-year extension.
Apple will also license Qualcomm's technology directly, rather than through contract manufacturers Foxconn, Pegatron, Wistron and Compal.
Qualcomm did share one number: It expects to see a $2 boost to its earnings-per-share as it begins ramping up shipments. This appears to indicate Qualcomm will continue charging Apple the same licensing fee as before, estimated around $7.50 per phone, said Kevin Cassidy, a semiconductors equity analyst for Stifel Financial Corp. A separate report by UBS Analyst Timothy Arcuri pegged the royalties at $8 to $9 per iPhone.
"It seems to me, they didn't give any concessions through a lower licensing fee," Cassidy said. "I think they held their negotiation."
As for Apple's payment to Qualcomm for the lost licensing fees, Cassidy estimates it will be about $5 billion. He upped his target price for Qualcomm's stock from $57 per share to $100, indicating the company could reach the milestone it pledged shareholders last year.

Spokespeople for Apple and Qualcomm declined to comment on the settlement terms.
Why Now?
Up until the trial, a deal seemed like a distant possibility for Apple and Qualcomm. In January, Apple CEO Tim Cook said the company had not been in any settlement talks, while two months before, Qualcomm CEO Steve Mollenkopf had said the two companies were "on the doorstep" of a resolution.
Mollenkopf offered few details when he talked about the deal with CNBC's Jim Cramer April 17.
"We talk all of the time," he said, cracking a smile. "The companies, to get to an agreement as complex as this, you've got to talk."
According to anonymous sources cited in the Wall Street Journal, serious talks began on April 15, with the final details begin hammered out the next morning.
"It seemed like the right thing to do, when you look at it from a purely business perspective," said Robert Stoll, a partner with Drinker Biddle & Reath LLP. "Usually, when you get to that stage (a trial), there are other reasons, or personalities involved. if you take a cold, hard business look at things, you should be able to find a way out."
Another important piece of news that surfaced hours later that might have explained the deal. Intel Corp., which was expected to supply 5G smartphone modems for Apple by 2020, announced it would no longer be making them. In fact, Intel would cut its entire 5G smartphone modem business.
It's hard to say which came first — the settlement, or Intel's decision.
"If Apple sensed there was little risk that they could get to 5G in the back half of 2020, I think Apple would have stayed the course," said Patrick Moorhead, founder of Moor Insights and Strategy.
At the same time, Intel may have determined making smartphone modems was no longer the best strategy for the company, which has more leadership in PCs and IoT devices. Apple was Intel's only customer for 5G smartphone modems.
"I think we all knew Qualcomm had the lead in 5G smartphone tech," he said. "The question became … how much time did they have before it started to cause an issue for Apple?"
Another, less discussed possibility: Outside competitors may have played a role in bringing the quarrelling partners back together. Chinese phone-maker Huawei has its own silicon division, HiSilicon. It's growing—even as the broader demand for new smartphones is slowing.
"The forecast is for Huawei to grow 35 percent this year in a market that will be down 5 percent," said Cassidy of Stifel Financial Corp. "Both Qualcomm and Apple are losing market share. They're teaming up to say, we've got a serious competitor here, and it's not just Samsung."
Qualcomm still faces one outstanding challenge to its licensing practices. U.S. District Judge Lucy Koh had yet to rule as of April 17 in the U.S. Federal Trade Commission's antitrust lawsuit against Qualcomm, which concluded on Jan. 29.
It's possible that the FTC and Qualcomm may settle before Koh's ruling. The two had pursued a settlement before the trial began in January, and the FTC has faced pressure to settle based on "national security concerns."
Koh hasn't given an indication of when she will rule, other than to note that her decision would take longer than usual.
"It just seemed like she was highly suggesting that the two settle out of court," Cassidy said.
Though Apple had an information sharing agreement with the FTC, with the settlement, Apple will likely not look to spend any more time on that case. The leadership at the Department of Justice has also pushed back on the FTC's case.
"The current administration probably doesn't want to go forward with this," Drinker Biddle's Stoll said. Makan Delrahim, the head antitrust official with the Department of Justice, has pulled out of agreements with the (Patent and Trademark Office) and gone more in the direction of pro-patent owner."
The FTC declined to comment on settlement talks with Qualcomm.
Future Plans
With the extra cash in hand from the settlement, Qualcomm will be able to make some interesting moves. The company may once again be able to shift to hiring mode, and it might also become more acquisitive.
Qualcomm has said it is not interested in revisiting a deal with NXP after its failed bid to acquire the Dutch semiconductor manufacturer last year. NXP would have been an important acquisition for Qualcomm's automotive business, but the San Diego chipmaker might be on the hunt for other options, Cassidy said.
"The goal is for Qualcomm to start selling 5G outside of just smartphones," Cassidy said. "That's the opportunity to acquire another company that may be selling in the automotive market."
For Apple, it's difficult to say if the settlement will affect plans for its new San Diego office. The Cupertino-based company announced it would hire 1,200 people for its planned tech campus, and some job postings have pointed very clearly to modem engineers.
"When they're hiring for design engineers for a digital modem, you have to take them for their word," said Moorhead of Moor Insights and Strategy. "At the beginning, I pretty much thought Apple was trying to poach Qualcomm engineers. … Now that there's an armistice here, are they going to aggressively go after Qualcomm employees like they were before? I just don't know."
If Apple is interested in making its own modems, it also could pull talent from Intel's and MediaTek's offices in San Diego. And with Intel looking to offload its 5G modem business, Apple could be first in line to buy it.
In the long term, Cassidy said, Apple likely wants to build its own chips. That takes time, money and technology assets. With their six-year agreement with Qualcomm, Cassidy said, "They've bought themselves some time."
See More > > ECONOMY: San Diego Is a Clear Winner as Company's Stock Surges