'Taste of Our Community' Raises Funds for Developmentally Disabled
Sunday, April 21, 2019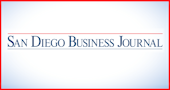 Options For All, an organization that gives individuals with disabilities more options for living their lives to the fullest, held its 10th Annual Taste of Our Community recently at BRICK in Liberty Station. The event raised more than $65,000 to celebrate a decade of fundraising for individuals with intellectual and developmental disabilities in San Diego.
The 10th Annual Taste of Our Community featured special guest Steve Cassarino (Chef Roc). The Event Planning Committee was chaired by Barbara Meserve. Additional committee members include Karen Driscoll, Morgan David, Kristina Gomez, Vince Heald, Myles Horttor, Melissa Plante, Alaina Purcell, Alexandria Tomayko, and Kellye Buchanan.
Options For All serves individuals who face the challenges of autism, cerebral palsy, Down syndrome, hearing and vision impairments, learning and intellectual disabilities, and severe behavioral disorders. Its mission is to create and support opportunities for adults with developmental disabilities in making choices to live, work, and enjoy life in their community with dignity and respect.