Market Momentum Starts 2019 Strong and Keeps Going
Sunday, April 21, 2019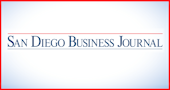 San Diego's commercial real estate markets in all sectors started 2019 with a burst of activity that brokers and analysts say is likely to continue.
Competition for space is intense in many submarkets, with UTC and Kearny Mesa among the leaders.
Mickey Morera, an executive vice president of Kidder Mathews, said demand for industrial space is the strongest he's seen in 30 years and he expects it to remain strong through 2020.
"Many tenants are having a hard time finding adequate space for their needs," Morera said. "It's forcing rents up."
Kidder Mathews reported that rent growth for industrial space in the first quarter of 2019 has reached an all-time high with no sign of abating and sales prices reached a historical peak.
About 2 million square feet of industrial space is due to be completed by the end of 2019 and nearly 45 percent of that came on line in the first quarter of 2019, according to Kidder Mathews.
That follows a particularly robust year for the industrial market in 2018, when a total of about 3.3 million square feet of new construction was delivered.
Breweries are one segment of the industrial market that's showing signs of softening, Morera said.
"We had this proliferation of breweries in San Diego County. Some of those players are starting to slow down and there's been some correction there," Morera said.
At the other end of the spectrum, demand for space by life science and tech companies is fierce.
"Big name companies from Silicon Valley are coming down here, plus there's continued growth of local companies, Morera said. "And on the industrial side, the demand we're seeing is in consumer products – the need to be to the local market quickly, whether it's Amazon or UPS. Interestingly, a number of automotive tire companies have taken space."
On the office side, Kidder Mathews reported that the number of transactions in the first quarter of 2019 were twice what they were for the first quarter of 2018 and vacancies were holding at near record levels.
CBRE reported that landlords on average in the first quarter of 2019 were seeking a record breaking $3.01 per square foot for office space, the first time asking rates have ever topped $3 per square foot.
Part of the reason they were able to look for higher rents is that vacancy rates for office space countywide was running below 10 percent.
To take advantage of the competition for office space, some landlords are sprucing up their buildings, said Michael Combs, research manager for CBRE in San Diego.
"We haven't seen a lot of new construction of office," Combs said. "There's a lot of opportunities out there for repositioning, heavy renovations. We've already seen a lot of that."
On the retail side, CBRE reported that there was a surge of investments in new and upgraded retail centers in the first quarter of 2019, with rental asking rates rising.
Those investments also are bringing new upscale tenants to the region, according to CBRE.
Among the more significant projects delivered in the first quarter that were cited by CBRE were the opening of parts of the retail portion of Kilroy Realty's One Paseo in Carmel Valley, 90,094 square feet of retail space in The Square at Bressi Ranch in Carlsbad and 104,493 square feet of space in Millenia Town Center in Chula Vista.
"We just continue to see steady, strong activity," Combs said. "There's growth in tenants that are a little less impacted by ecommerce."
Still to come is completion of a $120 million renovation at Del Mar Highlands Town Center along with ongoing construction at Westfield UTC.
"We've seen more and more investment in upgrading those centers and creating experiences in those centers," Combs said.