TECH: CONFERENCE FOLLOWS COS. FOCUS IN APPLYING TECHNOLOGY
Industries Chart New Paths Via Innovation
Sunday, April 21, 2019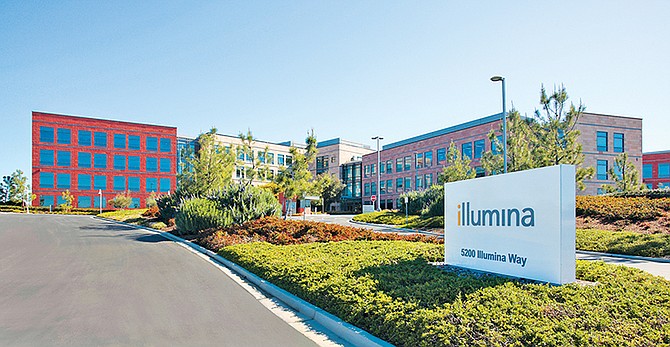 At the Rady School of Management's annual technology conference at UC San Diego, about 200 students, technology workers and leaders joined to discuss technology trends. At the April 12 event, seven leaders at local technology startups and corporate giants came together to share what they're watching in their industries. Here are some speakers and highlights of the conference:
• Prithwish Pal, manager of clinical genomics market development for Illumina:
Pal, who has worked for DNA sequencing giant Illumina Inc. since 2014, focuses on how the genomic profiling of tumors can be used to identify the best immunotherapy treatments for cancer. Specifically, these methods can identify rare gene mutations that might respond well to targeted treatments.
"Cancer is where precision medicine really shines because cancer is a genetic disease," Pal said at the conference.
As more people turn to sequencing to learn more about their health, the amount of genomic data is expected to increase dramatically.
That said, there's still plenty of work to be done to find more treatments.
"We have to interpret these data," Pal said. "Machine learning, deep learning and AI have a huge role here."
Currently, we only understand about 1 percent of the variations of the human genome, Pal said. And most of the data we have today is from a predominately western population, meaning the data we're working with is incomplete, at best.
"As we all know about AI, it's garbage in, garbage out," Pal said. "We're trying to solve that by being more inclusive."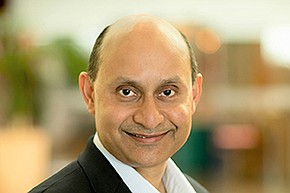 • Durga Malladi, senior vice president and general manager of 4G/5G for Qualcomm:
At his time with Qualcomm Inc., Malladi has seen the emergence of the 4G cellular standard, which led to internet browsing, video streaming, and more data-heavy uses on our smartphones. Now, Malladi is focused on the transition to the next standard, 5G, an effort that many wireless carriers and phone-makers are beginning to undertake this year.
Though 5G will also lead to faster data speeds and new uses for smartphones, Malladi is most excited about a different use case: manufacturing.
"The first time we heard a lot of people from the manufacturing sector say we want to embrace 5G, my first question was, 'why?'" Malladi said. "The amount of data that gets processed... it's tons and tons of data that is getting crunched all the time."
More manufacturing plants are turning to wireless connectivity, as it allows more flexibility to reconfigure machines and customize products. The factories don't necessarily need the high data rates that a smartphone user might expect, but they do require low latency and high reliability, to ensure communications are made quickly and that systems don't go down. 5G wireless technology is designed to meet both of those requirements.
"It reduces the downtime associated with manufacturing. Productivity goes up quite a bit," Malladi said. "We've been working with a large number of partners in the manufacturing industry."

• Steve Griset, chief technology officer of AlwaysAI:
Software startup AlwaysAI moved to San Diego last year. The company is building a platform for developers to make it easier to use computer vision.
Griset said the company is focusing on computer vision for its high growth potential, with more opportunities for automation. While computer vision is about a $1 billion industry today, it's expected to balloon to $6 billion by 2023, Griset said.
"The reason we're going to see this growth… we're now starting to automate things that we couldn't automate before," Griset said. "We're trying to enable developers to use that tech down at the edge that don't necessarily have training in computer vision."
Computer vision technology has a wide range of uses. It can be used to monitor trucking fleets, to deploy robot harvesters for farms, and detect and classify objects in images.
• Michael Hunley, software development manager for Amazon Game Studios:
Amazon Game Studios is relatively new to San Diego. Hunley is helping lead software development at the new offices, which opened in 2017.
There's a lot of work to be done before a game gets to potential customers' screens, and a lot of cost baked into that process. Developers have to design entire worlds, include every tree, root and blade of grass. For a AAA game, that process can take years.
"Imagine a 1 kilometer by 1 kilometer chunk of the world," Hunley said. "We want rich textures, a lot of trees, different objects placed. We want this to look like a natural world."
Hunley said Amazon Game Studios employs SageMaker, a tool by Amazon that lets users quickly build and deploy machine learning models. For example, it can be used to simulate a character's movement, determining how high they would raise their feet, or how much their torso would lean when they run.
Hunley said it could also be used to generate the basics of a game's world, such as a forest setting with trees, boulders and other details. This way, tools like SageMaker can lay a foundation for the game, and developers can focus their time on putting in the details that make games memorable.
"Doing that whole process by hand takes a lot of effort," Hunley said. "I want that first 80 percent (of the work) for free. I want my very talented, but expensive, developers spending their time on that last 20 percent."
• Josh St. John, head of 3-D and immersive computing for HP:
St. John focused on an unexpected use case for 3-D scanning and printing technology: shoes.
For most footwear companies, there's a long lead time between when a sketch of a shoe is developed, and when it is modeled into a sample.
The shoes start off as a 2-D sketch. For shoe companies, such as Deckers, that can be difficult to translate to the manufacturing process, where the 2-D pieces are cut out and stitched together into a 3-D sample shoe.

"The visualization and manufacturing data are completely separate, and that is really inefficient," St. John said. "If the size isn't right or the design isn't right, they have to go back through that process all over again."
New technologies, such as 3-D cameras, help translate the 3-D models to the manufacturing process, which could allow for more flexibility in custom-designed shoes.
"Anything that's designed flat is going to benefit from these 3-D technologies," he said.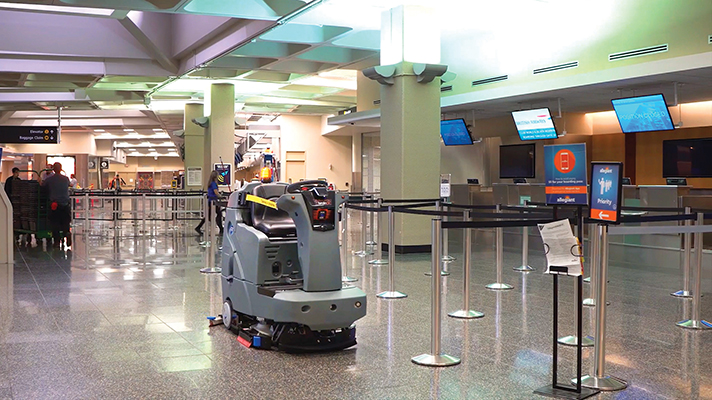 • Michael Rabin, director of client services for Brain Corp.:
Brain Corp., the San Diego robotics software startup, has hit its growth stride, Rabin said.
When the company started in 2009, "we had a large group of Ph.D.s doing research, but didn't have a foray into what to do with that technology," he said.
Since then, the company has raised funding from Qualcomm Ventures and closed a $114 million round led by SoftBank's Vision Fund. It launched its first commercial product, an industrial floor cleaning robot, in 2016. The driverless robots scrub the aisles of Walmarts and other big box stores at night.
Brain doesn't build the robots from scratch, but instead sells software tools and a hardware kit that allows them to learn to navigate autonomously.
"What Brain's vision really is, is to take machines and turn them into intelligent robots," Rabin said.
Most recently, the company announced a new delivery product. Its "tug" that can carry goods from the stockroom floor along a preprogrammed route, and bring empty pallets back to the stockroom.
Rabin said the company is looking at other indoor robots, but has no interest in outdoor use cases, such as self-driving cars.
"We consider ourselves the leader in indoor autonomous navigation," he said. "There are all sorts of challenges with outdoor (navigation) that they can have fun with."
• Kiva Allgood, head of IoT and automotive for Ericsson:
After serving as chief development officer for GE Ventures for two years, Allgood joined Ericsson to head up its internet of things and automotive businesses. Currently, she is focusing on how wireless technologies can be put to use in an industrial environment.
The main selling point for most is increased reliability and productivity, both of which can save manufacturers money.
"If you think about the market and what's there, if you shut down an oil refinery for a day, that's $500,000 per day," she said. "That's the case for a lot of the industrial uses."
While connected sensors can be used to monitor factories or for mine safety, they can also affect people's lives. One of Allgood's most memorable projects, she said, was working on a small island where water was rotated through homes.
"They were losing 60 percent of the water from the source to the tap," Allgood said.
She and her team put sensors in the water system to determine where there were leaks, or water theft.
"That enabled people to shower, to cook, to brush their teeth every day," she said. "Those are the (projects) I get most excited about. You're using technology to enhance people's lives."