Ad Astra Ventures Launches Third Cohort with Three San Diego Founders
Friday, April 19, 2019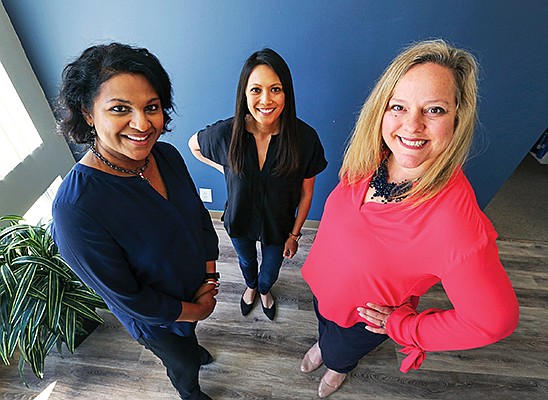 Ad Astra Ventures, an accelerator focused on developing women-led startups, announced its third cohort on April 17. The Solana Beach-based program welcomed three new companies: Outside Financial, Navega Therapeutics and Domaine Santé.
"We're thrilled with the caliber of applications coming in from San Diego and outside of the city — this was a hard decision," Ad Astra Ventures Co-Founder Vidya Dinamani said in a news release. "Three impressive women make up our current cohort; they represent diverse industries, and all address a critical customer need. We're excited about sharing with them our unique framework, which will accelerate their impact."
Sonia Steinway, president and founder of Outside Financial, founded the company after serving as a consumer finance regulation attorney to help consumers better understand their options for financing a car. The company matches customers with vetted lenders for purchases or refinancing, and helps them avoid unexpected fees at a dealership.
Ana Moreno founded Navega Therapeutics to offer alternative treatments for chronic pain. Her company uses gene therapy, instead of opioids, to reduce the amount of pain felt in a specific location. The company has treatments for different types of pain in its pipeline, all in the preclinical stage.
Emily Josenhans founded Domaine Santé, a company sells sweeteners made from California wine grapes. The company offers its Grape Nectar as an alternative to sugar, with some of the flavors and complexity of wine.
Local investors Dinamani, Allison Long Pettine and Silvia Mah started Ad Astra Ventures last year. Since then, the program has graduated six startups, which have raised more than $2 million to date.
Companies that participate in the eight-week program will receive mentoring, business training and $20,000 in seed funding.