Seacoast Commerce Bank Reports Q1 Net Income Growth
Thursday, April 18, 2019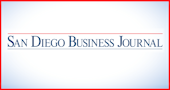 San Diego-based Seacoast Commerce Bank announced on April 18 that net income grew 15.3 percent year-over-year for Q1 2019. The bank reported net income of $3.5 million, resulting in earnings of 37 cents per share.
The bank closed the quarter with $92.9 million in asset growth.
Seacoast Commerce President and CEO Richard Sanborn said the government shutdown at the beginning of the year slowed the approval of its Small Business Administration loans.
"The company's growth and long-term shareholder value creation strategy is based on consistently generating and holding more saleable SBA loans, funded by non-interest bearing core deposits," the CEO said. "Holding loans, versus selling for a one-time gain, results in more consistent, predictable, recurring spread income."
Sanborn has served as president and CEO of Seacoast Commerce since 2007. The CEO was appointed the chair of the Federal Reserve of San Francisco's 12th District Community Depository Institutions Advisory Council, effective Jan. 1.
Seacoast Commerce Bank shares are traded over the counter. The company's ticker symbol is SCBH.