San Diego to Receive JPMorgan Creative Solutions Award
Thursday, April 18, 2019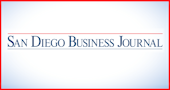 Financial services firm JPMorgan Chase chose the city of San Diego to receive a $3 million award as part of the bank's Advancing Cities Challenge. JPMorgan said the award is part of a five-year initiative to create economic opportunity and inclusive growth in urban environments.
Also chosen were Chicago; Louisville, Kentucky; Miami; and Syracuse, New York.
The bank said San Diego and the other four cities were selected out of 250 proposals. The Advancing Cities Challenge is a $500 million initiative by the investment bank.
The city of San Diego was awarded the prize based on its jobs and skills, small business environment, neighborhood revitalization and financial health, JPMorgan said. The San Diego Regional Economic Development Corp. said the JPMorgan award will support its inclusive growth initiative.
According to research from San Diego EDC, small businesses in the city employ 59 percent of the region's workforce. And in order to remain competitive, the city will be required to double its skilled workers pipeline by 2030.