Salk Institute Receives $35M for Plant Initiative Fighting Climate Change
Thursday, April 18, 2019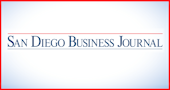 The Salk Institute for Biological Studies is set to receive $35 million to develop plants that suck up large amounts of carbon from the atmosphere to fight climate change.
Funding is coming from The Audacious Project that's part of TED, the nonprofit behind Ted Talks. The sum represents one of the largest single gifts to a project in the institute's history.
"Plants have evolved over time to be an ideal vehicle for carbon capture and storage. If we can optimize plants' natural ability to capture and store carbon we can develop plants that not only have the potential to reduce carbon dioxide in the atmosphere (negative emissions) but that can also help enrich soils and increase crop yields," said in a statement Joanne Chory, who is leading the project, and is the director of Salk's plant molecular and cellular biology laboratory.
Salk aims to make plants with increased amounts of suberin, a substance found in plant roots that's key to absorbing carbon and storing it below ground.
The Audacious Project was launched in 2018 to "take on the world's biggest and most urgent challenges," states its website.