The Ratner's Industrial Inspiration Draws Artistic Tenants to Its Space
Thursday, April 18, 2019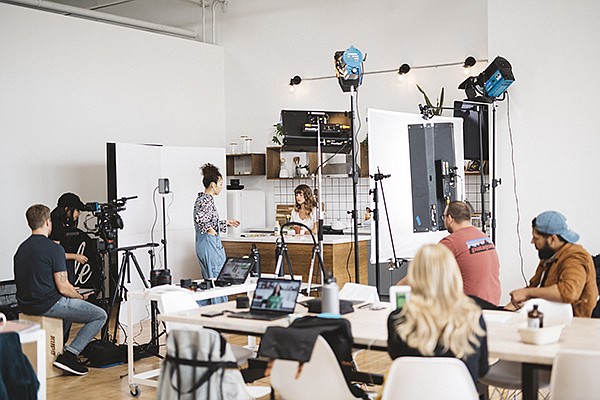 A six-building East Village complex has drawn a collection of artsy tenants that the building's owners hoped to attract when they renovated what was once home to one of the largest manufacturers of men's clothing in the nation.
Kirk Hensler said the industrial feel and look of The Ratner complex has helped his media production company, Hale Productions, flourish.
"It's so cool if you want that true industrial feel," Hensler said. "It's hard to find buildings with industrial windows and old hardwood floors and this character that is unique to San Diego."
Known as the Art Center block prior to the renovation, the complex was renamed The Ratner in September by Paragon Real Estate Investments in recognition of its history as the home of Ratner Clothing — founded in the 1920s by Isaac Ratner.
Paragon Real Estate bought the complex in July 2007 for $34 million and spent about $250,000 on renovations.
Hensler had leased 800 square feet of space in the complex before The Ratner was renovated and has since moved to take over a 1,700 square foot section and an additional 3,500 square-foot section.
"We've really benefitted from being able to grow with the building. It's awesome," Hensler said.
He liked the flexible pricing and leasing The Ratner offered. Hensler said he wanted to be downtown but that many other sites he looked at "put a pretty modern spin on everything."
"They're super specific about what you can bring in, what you can touch, what you can modify," Hensler said. "We do commercial photography and video and we're constantly dealing with different clients that want different things."
At The Ratner, Hensler was free to make the changes he wanted.
"We redid the floors, we put up brick veneers, we put in a new kitchen, we put up new walls — we basically had the freedom to customize the space and make it look exactly the way we wanted to make it look," Hensler said. "We've designed these beautiful lofts and other photographers and other producers are always looking for locations and we happen to have one of the few truly industrial lofts in downtown so now we're renting it out to other companies to shoot their product."
With many of the other tenants also involved in the arts, Hensler said there's a strong creative and collaborative atmosphere to the place.
"Everyone's friendly and cool," Hensler said.
Others leasing space at The Ratner include Tallgrass Pictures, fashion photographer Monique Hoppe who said the complex reminded her of New York, Flavio Scorsato Photography, Rowell Design, Vapor Flame stage and video special effects producers, and photographers David Fokos and Angelika Feldt.
The Census Bureau also has signed a short-term lease for 10,000 square feet on the ground floor of The Ratner at the F Street and 13th Street corner of the complex adjacent to the planned East Village Green Park.
When the bureau moves out, tentative plans are to replace it with a coffee shop and restaurant.