Executive Q & A: Greg McKee, Torrent Ventures
Thursday, April 18, 2019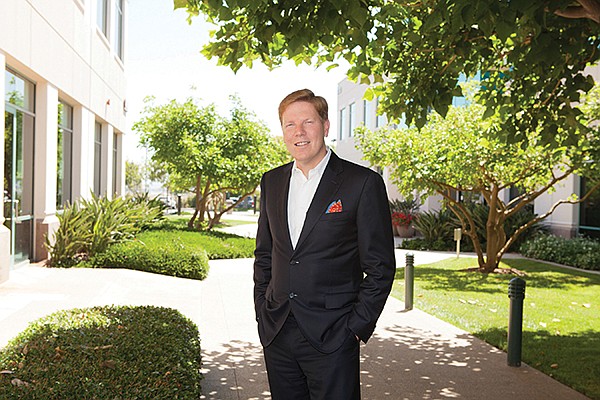 A new fund in town is looking to support health software companies from San Diego to Los Angeles. Greg McKee launched Torrent Ventures in February after serving as CEO of nonprofit startup accelerator Connect for five years. In his new venture, he will team up with Los Angeles investment advisor Luke Hayes to help fund early-stage digital health companies in Southern California.
Before working with Connect, McKee had a long history in biotech. He served as CEO of local vaccine company Nventa for seven years, which was acquired by Texas-based drug development company Akela Pharma Inc. in 2009. Prior to that, he headed up corporate development for Bay Area biotech Valentis Inc.
The San Diego Business Journal spoke with McKee on how he decided to launch the new fund, and what he hopes to see in the local startup scene in the future.
Q: How did you and Hayes decide to launch Torrent Ventures?
A: Luke and I met about a year ago. We realized we had similar ideas about the region. We felt that there were a lot of fantastic companies here in Southern California — San Diego, Orange County and Los Angeles — and we thought that rivaled what was going on in Silicon Valley. We also noticed there was a really big shortage of early-stage capital down here. We wanted to try to move the needle on that and specifically work to call outside money into Southern California.
Q: What types of companies are you looking to invest in?
A: I've noticed a trend of software and data analytics being applied to the life science field. We want to participate in early-stage deals in that space. Across the board, we're looking at record management, data mining, diagnostics, devices that are data-enabled … things like that. We're also looking at software applications, data applications, effectively anything except for new chemical entities and biologics.
Opportunities that are just coming out of university, with interesting founders, an interesting technology or market, we want to find a way to participate and help those companies get started. … We're looking at seed-stage, Series A, and maybe some pre-seed (startups).
Q: What's the market currently like for San Diego startups?
A: There's definitely more early-stage companies. Anecdotally, from what I was seeing at Connect, more companies were getting funded, which is great.
If you look at the number of startups we've had locally, it was pretty consistent, about 300 per year, until about 2009 or 2010. Then it bounced up to 400. After the downturn, people were working to figure out where they could be productive. They turned to early-stage companies. In San Diego, that's where a lot of the growth is … and I think that will continue to be a trend for us down the road.
A lot of people are beginning to realize that some of the biggest changes are going to be coming out of early-stage companies commercializing novel technologies. We have lots of entrepreneurs around that are really talented, and lots of technology pouring out of universities. Fortunately, we're in a decent funding environment right now.
It's pretty clear that we need more (capital). I think eventually we're going to end up looking more like the (Bay Area) than what we are now.
Q: What's your goal for Torrent?
A: If you look at the number of startups in Southern California versus Northern California, it's nearly identical — about 2,500 companies. We get a significantly lower portion of early-stage money. We think there's lots of opportunity there: The cost of doing business in Northern California is high, and the valuation of companies is much better in Southern California.
We've run across a lot of family offices and high-net-worth individuals that would like to have access to the market here but don't have a good investment vehicle to tap into. We want to have people on the ground that could provide due diligence on these companies.
I hope this helps catalyze the growth of other venture funds here. We think there's a lot of opportunity in a lot of different industries.
Q: Where are you right now with your firm?
A: We've been out talking to (limited partners) to raise money. We also have put together a pipeline of 25 early-stage companies that we're looking at. The response so far has been incredibly positive, and we're thrilled. … We've had lots of different inquiries and we're excited about our partners so far.