Viasat Pens Brazil Distribution Agreement
Wednesday, April 17, 2019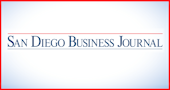 Carlsbad-based Viasat announced April 16 that it signed a wholesale distribution agreement with Ruralweb in Brazil. The communications company said the partnership with Ruralweb will enable it to deploy high-speed satellite internet services throughout the South American country. Financial terms of the deal were not disclosed.
The Carlsbad communication company has maintained a large-scale presence in Brazil since February 2018 when it entered an agreement with the state-controlled telecom company Telebras to enlarge its broadband internet distribution services.
Viasat (Nasdaq: VSAT) said it will use Telebras' Geostationary Satellite for Defense and Strategic Communications, SGDC-1, and its own ground network and infrastructure to expand broadband internet availability in rural areas of Brazil. The partnership with Ruralweb, a satellite service company based in Brasilia, the administrative capital of the country, will enable Viasat to distribute its equipment to areas where internet service is not available.
"Our partnership with Viasat will allow us to complement our satellite portfolio—with an ability to offer advanced high-quality Ka-band (satellite broadband) services," Ruralweb president Marcus Kruel said in a news release. "Viasat selected us as a distribution partner because our local expertise will enable us to penetrate new geographic locations and populations to meet the anticipated demands for Viasat's new service offerings."
Ka-band is a radio frequency, similar to a channel on a television set.
Viasat secured $600 million in senior secured, eight-year debt in March.