Navy Tests Leading-Edge Tech in April Exercise
Wednesday, April 17, 2019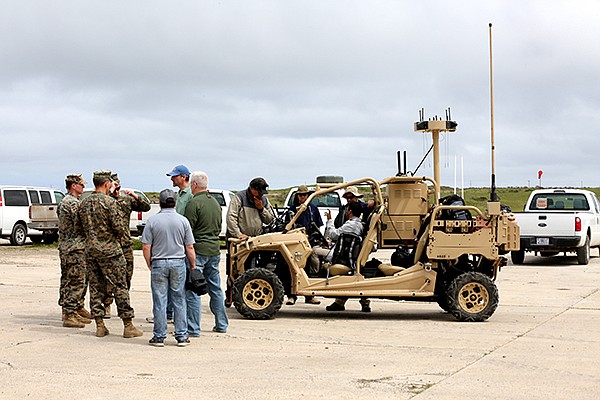 Point Loma is home to a U.S. Navy lab, where military and civilian researchers put new inventions to the test.
Earlier in the month, the Navy and U.S. Marine Corps wrapped up an exercise that paired fighting forces with advanced technology. They split the work between San Diego and the more spartan expanse of San Clemente Island. DRS Daylight Solutions and Solute Inc. were two San Diego businesses that participated.
DRS Daylight provides advanced laser technology while Solute is a computer specialist. They joined a handful of other private businesses (and engineers from Navy labs nationwide) in the Advanced Naval Technology Exercise, or ANTX West.
Video of the exercises at San Clemente Island showed people in camouflage riding in all-terrain vehicles rigged up with electronics. They were also photographed using small unmanned aircraft. One variety of drone was snagged in midair with a cable. The other took off with the help of a device that resembled a roller skate; when the drone took flight, the skate fell away.
The advantage to participating businesses is that they receive feedback on which parts of the technology need improvement, said U.S. Marine Corps Lt. Morgan Grossman in a Navy-produced video about the exercise.
For the exercise, Mission Valley-based Solute provided its Assured Autonomous Communications Network (AACN). Solute said it demonstrated network maneuverability and cyber resiliency capabilities which allow continuous communications for Navy and Marine Corps platforms operating in contested cyber and electromagnetic spectrum environments. In addition to AACN, Solute provided a technology it calls Remote Distribution Service.
Rancho Bernardo-based Daylight Solutions' specialty is lasers. It develops molecular detection and imaging systems for use in scientific research, life sciences and industrial process control — in addition to defense. The company describes itself as the world leader in mid-infrared laser-based solutions, with a line of broadly tunable and fixed wavelength laser sources, sensors and microscopes that utilize mid-infrared spectroscopy and imaging. In 2017, the company said it was working on next-generation laser technology that protects aircraft against shoulder fired, heat seeking missiles. Leonardo DRS acquired Daylight Solutions in 2017 for $150 million.
The Navy's Point Loma lab, by the way, has a new name. What was once known as SPAWAR Systems Center Pacific is now the Naval Information Warfare Center Pacific, shortened as NIWC.