SDBJ Insider: Jacobs School Continues to Rise in Rankings
Tuesday, April 16, 2019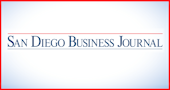 U.S. News and World Report has ranked UC San Diego's Jacobs School of Engineering at No. 11 among the nation's graduate engineering schools.
The school is tied at that ranking with Cockrell School of Engineering at University of Texas at Austin and the Fu Foundation School of Engineering and Applied Science at Columbia University in New York.
The engineering schools at the Massachusetts Institute of Technology, Stanford University and UC Berkeley took the No. 1, 2 and 3 spots respectively.
The Jacobs School of Engineering's ranking is up from No. 12 last year and No. 17 three years ago; the school ranked No. 6 in the nation among public universities, up from No. 7 last year and No. 10 three years ago, the school's website notes.
"These rising rankings reflect both the positive momentum and the world-class stature of the Jacobs School of Engineering," Chancellor Pradeep Khosla stated on the website.
• • •
Private equity firm H.I.G. Capital has acquired Carlsbad-based weight loss company Jenny Craig. The Miami-based private equity firm acquired Craig Holdings Inc. from North Castle Partners for an undisclosed amount.
"H.I.G. will enable Jenny Craig to continue successfully delivering our time-tested programs to millions of customers while expanding both our reach and breadth," Jenny Craig CEO Monty Sharma said in a news release. Sharma will stay on as CEO.
Genevieve Craig founded the eponymous business in Australia in 1983. Two years later, she and her husband incorporated the business in the U.S. after moving to North County.
In 2006, Nestle acquired Jenny Craig for $600 million. It sold the company to North Castle Partners seven years later. Jenny Craig's program includes prepackaged meals and access to a consultant for a monthly fee. It has 500 company-owned and franchised locations in North America, and 600 worldwide.
• • •
Stone Brewing Co. co-founder and Executive Chairman Greg Koch announced via a blog post earlier this month that the San Diego-based brewery has transferred ownership of the Stone Brewing World Bistro & Gardens — Berlin, which opened in 2016, to Scotland-based BrewDog.
"To feed a beast like Stone Berlin, we needed volume. The sheer cost of building and maintaining Stone Berlin to our standards didn't let us grow it slowly. Sometimes you gotta realize when your dream is becoming a threat to your greater good," Koch wrote. He added that Stone, available in 26 countries, will continue to be distributed around Europe.
Staff writers Mariel Concepcion and Elise Reuter contributed to this report.