Citadel Awarded Drone-Defense Contract
Tuesday, April 16, 2019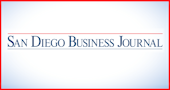 National City-based Citadel Defense signed a $1 million purchase contract with the Defense Logistics Agency on April 16. The technology company said the purchase contract will support Special Operations Command requirements related to drone counteraction.
Citadel Defense manufactures portable drone tracking and disabling systems for military operations and security. The contract awarded to Citadel Defense is the sixth contract the technology company has inked with the U.S. government.
The drone company was selected to participate in an innovation development program sponsored by the U.S. Air Force in June.
Citadel Defense was founded in 2016 by Henrik Borgstrom, Daniel Magy and Joey Makol. The company is backed by Lightspeed Venture Partners and employs 20 in National City.