PhaseBio Drug Garners Breakthrough Designation
Monday, April 15, 2019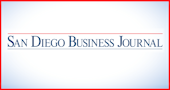 PhaseBio's drug that aims to stop bleeding events received a breakthrough drug designation from the U.S. Food and Drug Administration.
The recently announced designation expedites regulatory review of promising drugs targeting areas with high need. It comes after phase 1 clinical trial results showed PhaseBio's drug, PB2452, reversed antiplatelet activity — which raises the risk of spontaneous major bleeding — associated with ticagrelor, an AstraZeneca drug.
Ticagrelor is taken to prevent heart attack and stroke.
The company, which is headquartered in San Diego, does most of its research and development in Pennsylvania.
"Breakthrough Therapy designation supports our goal of making the first approved reversal agent for ticagrelor available to patients and physicians as soon as possible," said John Lee, chief medical officer of PhaseBio, in a statement.
In October, the company went public with a $43 million offering.
This article was updated to clarify that PhaseBio's initial public offering raised $43 million, not $46 million as originally stated.