Kilroy's Little Italy Building to Be Shining Example of Sustainability
Monday, April 15, 2019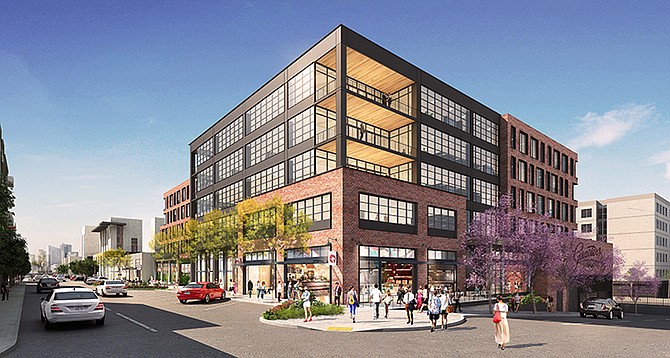 A six-story office structure that Kilroy Realty is about to start building in Little Italy will be a showcase of what company officials said is an aggressive drive to use the latest materials, design and technology to create environmentally sustainable projects.
Targeted for completion in early 2021, the 2100 Kettner Blvd. building is being designed to achieve LEED (U.S. Green Building Council Leadership in Energy and Environmental Design) Platinum certification.
Kilroy acquired the Little Italy building site in late 2017 for $19.4 million from three families that had owned the property since the 1920s. It had been a collection of old warehouses.
The project will include 209,000 square feet of office space, six street-level retail and restaurant suites, multiple terraces, a 10,688 square-foot rooftop deck and 267 parking spaces.
"It just has a lot of really great things going for it," said Sara Neff, a senior vice president of Kilroy Realty in charge of the company's sustainable building program.
"It is close enough to the San Diego purple pipe system so it will be able to use only recycled water in its irrigation system. It's also an all-electric building," Neff said. "It's just going to be a great example of all my favorite things."
The building is being designed with energy efficient glazing on the exterior to allow natural sunlight inside and open stairways which have the double effect of lowering cooling costs and encouraging people to take the stairs instead of elevators, Neff said.
The rooftop deck also will have a solar array capable of producing 200 kilowatts of power, Neff said, and a variety of plants to make it a "green roof." "The green obviously to keep the building cool and we believe people should be near plants," Neff said.
Along with the design of the building, construction materials have been chosen based partly on the effect they have on the environment.
For example, Neff said the building will use a manufactured wood product — cross laminated timber — that takes less energy to produce.
Kilroy officials have said that they are committed to becoming 100 percent carbon neutral by 2020.
"We really believe this stuff and we want to be at the forefront of the science," Neff said. "We absolutely think it attracts tenants. It's not just tenants, investors want to see this."