Real Estate Firm Sees 2018 Momentum Rolling Into 2019
Sunday, April 14, 2019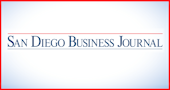 San Diego commercial real estate sales in 2018 were especially robust, according to the commercial real estate firm JLL.
The company in a recent report said that total sales in 2018 exceeded those of the previous five years for medical, flex/lab, industrial and office types.
Totaling $5.2 billion for the year, the average price per square foot reached $298 — also a high point.
Medical and office sales was $356 million for the year, with an average of $425 per square foot.
The year also saw a large number of big sales, with seven sales of over $100 million.
"With strong tenant demand for all property types, we expect direct vacancy to decrease and average rents to increase in 2019," JLL said in its report. "The culmination of these positive market dynamics further validates the bullish investor outlook in San Diego."