Biotech Startup Cullgen Raises $16M Series A
Sunday, April 14, 2019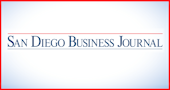 Cullgen, a San Diego-based biotechnology company, raised $16 million in a series A funding round led by Sequoia Capital China and Highlight Capital.
Cullgen, which has offices in Carmel Valley and Shanghai, is developing treatments for cancers and immune diseases that currently lack options. While most drugs interact with proteins, Cullgen uses targeted protein degraders, which target certain types of "undruggable" proteins and enzymes for destruction. The company currently has more than 40 employees.
"We are delighted to have the support of Sequoia and HC", Cullgen President and Chairman Ying Luo said in a news release. "Since our founding in early 2018 we have made significant advancement of our targeted protein degradation platform which has directly led to the identification of several pre-clinical assets that we are rapidly advancing towards the clinic."
The company will use the additional funding to bring in a new board member, develop Cullgen's treatment pipeline, and discover new molecules that can be used as part of its treatments.
.