Sempra Subsidiary Receives $3M Innovation Grant
Thursday, April 11, 2019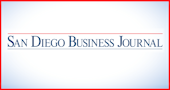 Sempra Energy subsidiary SoCalGas has received a grant from the California Energy Commission to advance its research in renewable energy extraction. The state's energy commission provided a $3 million grant to fund new technologies that will enable SoCalGas to double output through hydrothermal processing at wastewater treatment facilities.
Hydrothermal processing extracts energy from solid biomass through heat and pressure instead of conventional anaerobic bacteria processing. The company said the technology can cut energy extraction costs by half while creating only a third of greenhouse emissions.
SoCalGas said it is developing a pilot project at the wastewater treatment plant in Martinez. The Sempra subsidiary is partners with the Water Research Foundation, the Central Contra Costa Sanitary District, the Pacific Northwest National Laboratory, Genifuel Corp., Merrick & Co., Black & Veatch as well as Leidos, to name a few, in this project.
Last year, SoCalGas entered a legal settlement for $119.5 million over a natural gas storage leak in Aliso Canyon, which began in 2015.
Sempra (NYSE: SRE) has its headquarters in downtown San Diego.