Private Equity Firm Closes Acquisition of Kyriba with $160M Investment
Thursday, April 11, 2019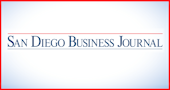 Private equity firm Bridgepoint Capital closed on its planned acquisition of San Diego financial software firm Kyriba on April 11. The firm's $160 million investment round gave it a majority stake in the company, and resulted in a total valuation of $1.2 billion for Kyriba.
"We are thankful and excited to be supported by world-class investors led by Bridgepoint," Kyriba CEO Jean-Luc Robert said in a news release. "We are incredibly fortunate to have investors that share our vision and provide us with the financial resources necessary to capitalize on the significant growth potential in front of us."
Kyriba's software is designed to help large companies keep track of their assets. The company currently has about 120 people in its offices in UTC, and expects its local headcount to grow to 200 as it moves to a new headquarters building nearby. Worldwide, Kyriba plans to grow its employment to 1,000 in the next year.
Kyriba plans to use the additional funds for research and development, as well as customer support and building out partnerships with other companies.