CHW Closes Deal for National City Towers, Plans Renovations
Wednesday, April 10, 2019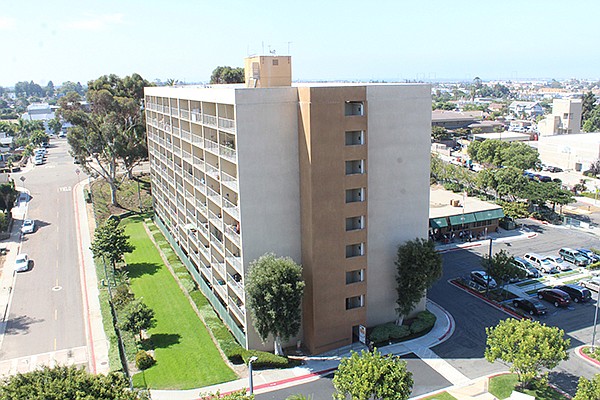 A pair of side-by-side National City residential towers that provide affordable apartments for low-income seniors will get a complete makeover by their new owner — Community Housing Works.
Community Housing Works acquired the buildings — Kimball Tower and Morgan Tower — in a $62.5 million deal with the Community Development Commission of the National City Housing Authority and plans to spend about $30 million renovating shared common areas and each apartment.
The renovation work is scheduled to begin this month and finish in summer 2020.
Built in 1986 by the Community Development Commission, the nine-story Kimball Tower at 1317 D Ave. has 151 one-bedroom apartments.
The nine-story Morgan Tower is the older of the two — built by the commission in 1979. It has 152 one-bedroom apartments and includes the 6,500 square-foot George H. Waters Nutrition on the first floor.
The city will continue to operate the nutrition center under a one-dollar-a-year lease with Community Housing Works.
The center provides daily meals to residents of the towers Monday through Friday and delivers meals daily during the week to seniors elsewhere, said Mary Jane Jagodzinski, Community Housing Works vice president of development.
Mercy Housing California will manage the towers and provide resident services once the renovation in finished.
Each apartment will have new energy-efficient double-pane windows, new balcony railings, new flooring, remodeled bathrooms with water-efficient fixtures, new kitchen cabinets and new appliances, said Rosalind Ross, Community Housing Works project manager.
"It will really be like a new apartment," Jagodzinski said.
As part of the renovation, "We're repurposing a lot of the interior community spaces to be more functional. We're adding a computer room to both towers as well as a wellness room (for) when we have an outside third party come in to do wellness checks," Ross said.
The elevators in the towers also will be replaced and the landscaping will be improved to provide more indoor-outdoor spaces to create more of a community feel to the towers, Ross said.
People who live in the towers will have to leave their apartments while they are being renovated, but everyone who lives in the towers will be guaranteed a spot in the refurbished buildings.
"No residents are being displaced," Jagodzinski said. "Every resident will continue to have an apartment there."
Residents can choose between taking money to cover their expenses while they live with relatives or friends or they can opt to stay in a hotel with the cost subsidized by Community Housing Works.
Apartments in the towers are designated for people over the age of 62 with incomes no more than 50 percent or the area median income — $34,100 for one person.