MedImpact to Lay Off 64 Employees
Tuesday, April 9, 2019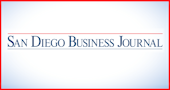 San Diego-based MedImpact Healthcare Systems will lay off up to 64 employees, citing business consolidation.
On April 4, the company filed a Worker Adjustment and Retraining Act, or WARN, notice summarizing the job losses.
The layoffs, which will be made June 7, will be spread throughout San Diego, Arizona, Pennsylvania and Minnesota.
MedImpact is a pharmacy benefit manager, or PBM, which is essentially an intermediary between insurance plans and pharmacies.